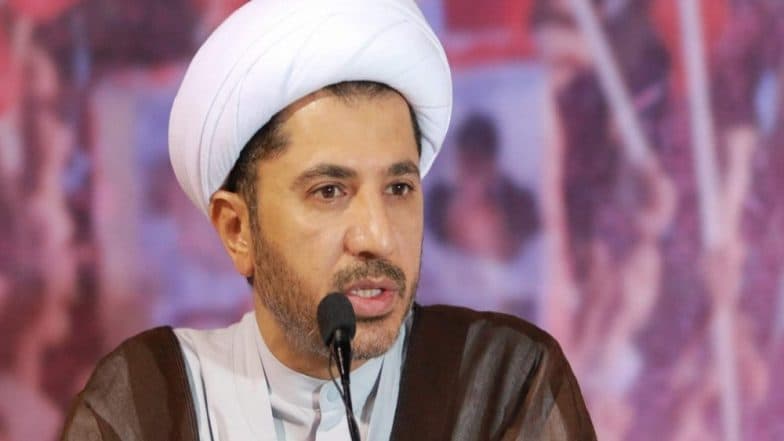 Reversing a previous acquittal, Bahrain's Court of Appeals has sentenced the country's top opposition leader to life in jail on charges of spying for Qatar.
A public prosecutor's statement said the court sentenced Sheikh Ali Salman, secretary-general of the opposition al-Wefaq group, and Sheikh Hassan Sultan and Ali Alaswad, members of the same group, to life in jail for transferring confidential information and receiving financial support from Qatar. The trio was sentenced for "acts of hostility" against Bahrain and "communicating with Qatari officials... to overthrow constitutional order", the public prosecutor's statement said.
The ruling comes just months after the Bahraini High Court of First Tier acquitted Salman of the charge of "colluding" with the rival state.
Salman is already serving a four-year prison sentence for inciting hatred and insulting the interior ministry after he was arrested in 2015.
Saudi Arabia, United Arab Emirates, Egypt and Bahrain cut off ties to Qatar last year and accused the emirate of supporting terrorist groups and of being too close to Iran - allegations Qatar's emirate has vigorously denied.
Human rights group Amnesty has described the decision as a "travesty of justice" amid Bahrain's "continued crackdown on dissent". "This verdict... demonstrates the Bahraini authorities' relentless and unlawful efforts to silence any form of dissent," Amnesty's Middle East and North Africa director Heba Morayef said.
Today, the #Bahrain-i Appeal Court overturned the acquittal of opposition leader Sheikh Ali Salman and sentenced him to life in prison. Sheikh Ali Salman is a #PrisonerOfConscience held solely for peacefully exercising his right to #Freedomofexpression. https://t.co/3ntixScH6N

— Amnesty Bahrain (@aibahrain) November 4, 2018
"Sheikh Ali Salman is a prisoner of conscience who is being held solely for peacefully exercising his right to freedom of expression."
Sima Watling, Amnesty International's campaigner on Bahrain, said that Salman had phone conversations with the foreign minister of Qatar in 2011, urging Doha to mediate in Bahrain's political crisis, and the interaction was used six years later as a proof for spying charges.
"The new charges are absurd," Watling said. "It appears to be linked to the Qatar crisis and the Bahraini authorities are going forward with their crush on dissent. Any opposition or opposing voice is being crushed."
Sunday's verdict comes days ahead of Bahrain's November 24 parliamentary elections. Members of dissolved opposition parties, including al-Wefaq and the secular al-Waad group, are banned from running.
The Sunni-ruled Gulf state has been hit by protests since 2011 when security forces crushed Shia-led protests demanding a constitutional monarchy and an elected prime minister.