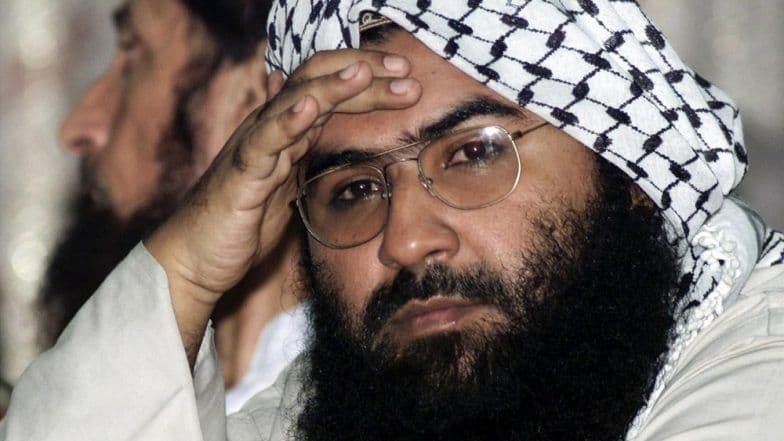 Geneva, March 13: For the fourth consecutive time, China has blocked the proposal to ban Jaish-e-Mohammed (JeM) chief Masood Azhar under 1267 sanctions committee of the United Nations Security Council (UNSC). Beijing was the sole nation in the five-member UNSC core group, which used veto powers to reject the proposal to list Azhar as a "designated terrorist".
Ahead of the special UN session, Chinese officials had hinted that they would not alter the line, despite the diplomatic channels used by the United States, the United Kingdom, France and India to persuade the Xi Jinping-led nation to change its stand on banning Azhar. 'Masood Azhar Ji': Rahul Gandhi Sparks Row With Dignified Reference to Jaish-e-Mohammed Chief.
The fresh proposal to list the JeM chief as a global terrorist was moved after the cross-border attack in Jammu & Kashmir's Pulwama on February 14, which resulted in the death of 40 Indian security personnel.
JeM had issued two statements claiming responsibility of the terror strike. Pakistan, which has allegedly provided safe haven to the terrorist group, has not taken cognizance of the video, saying that they have not been issued by the Jaish. Islamabad, on the contrary, claimed that no Pakistani was involved in the heinous attack in Pulwama.
On Beijing turning down the proposal to list Azhar, the Indian Ministry of External Affairs (MEA) issued a statement to mark its disappointment.
"The 1267 Sanctions Committee, upon completion of the no-objection period on 13 March 2019, wasn't able to come to a decision on the proposal for listing Mohammed Masood Azhar under the UN Sanctions regime, on account of a member placing the proposal on hold," the MEA said.
"We are disappointed by this outcome. This has prevented action by the international community to designate the leader of (JeM), a proscribed and active terrorist organization which has claimed responsibility for the terrorist attack in Jammu and Kashmir on 14 February 2019," it added.
In the past week, China had issued a joint statement with Russian and Indian Foreign Minister, condemning the terrorist attack in Jammu & Kashmir. In a rare shift, Beijing was signatory to the statement which called upon all regional nations, including Pakistan, to crackdown on terrorist groups operating on their soil.
On the listing of Azhar under the Al-Qaeda 1267 sanctions committee, state-run Chinese tabloid Global Times - which is known for reflecting the official views of the ruling Communist Party of China - said the manner in which individuals or groups are proscribed "should not be politicised".