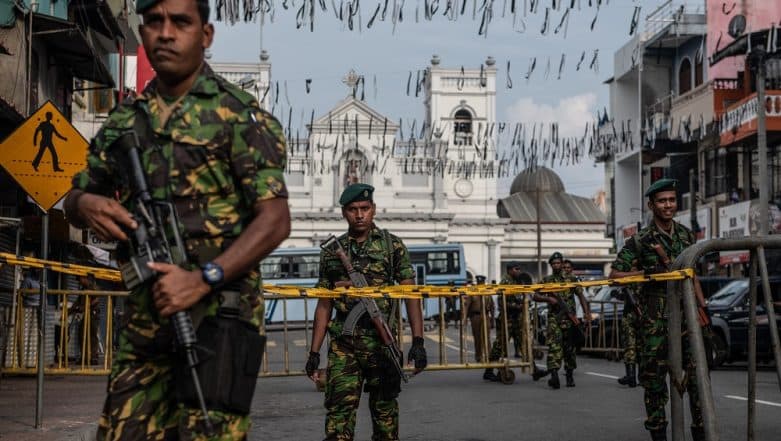 Colombo, April 29: Terrorists behind Easter Sunday's deadly suicide bombings may pose as military personnel to carry out more attack, Sri Lankan police have warned. Security forces were on high alert across Sri Lanka as intelligence inputs of possible attack using a van have been received. Sri Lanka's Buddhist temples could be terrorists' next target, the police have warned.
"There could be another wave of attacks," the head of ministerial security division (MSD), a unit of the police, said in a letter to lawmakers and other security sections, news agency Reuters reported on Monday. "The relevant information further notes that persons dressed in military uniforms and using a van could be involved in the attacks," the letter further said. Sri Lanka Blasts: Woman Gifts 5 German Shepherd Dogs to Army for Explosive-Detection Training After Blasts.
According to a report, security forces have warned of attacks on Buddhist temples by female bombers posing as devotees after authorities seized white clothes from a house that was raided following Easter Sunday blasts. The police found white pairs of skirts and blouses from the house which was raided after the explosion in Sainthamuruthu area in the Eastern province. Sri Lanka: Indian Among 13 Foreigners Arrested Without Valid Visa.
Authorities managed to find a CCTV footage which shows women purchasing nine sets of such clothes from a textile shop in Giriulla. So far, five sets of white clothes have been found while intelligence services were trying to find the remaining clothes. The police suspect there was at least one woman among the nine bombers who carried out the country's worst terror attack, killing 253 people and injuring over 500 others.
Six children and three women were among 15 people killed on Saturday when militants linked to the Easter Sunday bombings opened fire and blew themselves up during a fierce gun battle with security forces in Sri Lanka's Eastern province. The shootout occurred as the security forces continued their hunt for members of the banned local terror outfit National Thawheeth Jamath.
A total of 106 suspects, including a Tamil medium teacher and a school principal, have been arrested in connection with the Easter Sunday blasts.