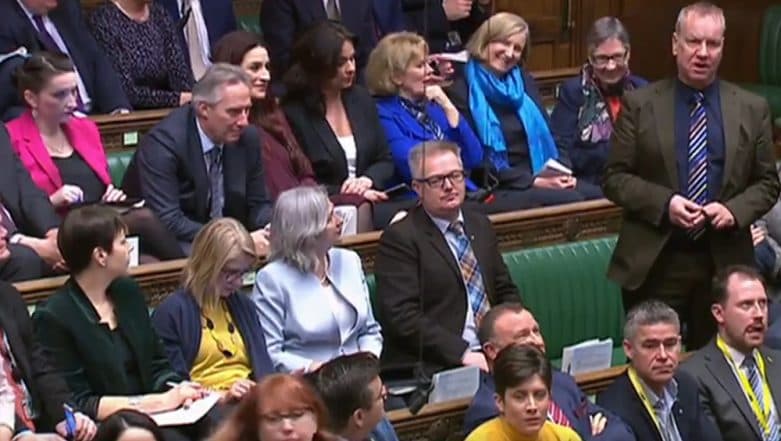 Toronto, February 21: Thought the British had enough problems with the country set to exit the European Union on March 29 and no Brexit plan in sight, well to add to the turmoil, MPs from both the governing and opposition parties have quit to create a pro-EU bloc.
48 hours after eight MPs from the Labour Party quit, three MPs from Prime Minister Theresa May's Conservative party have quit over what they call as a "false binary choice" between a "bad deal" and a "no deal," slamming her strategy of "running down the clock" to Brexit.
In a joint letter to the British Prime Minister, Heidi Allen, Anna Soubry and Sarah Wollaston laid the reason for their departure at the government's door due to its "dismal failure to stand up to the hard line ERG [European research Group]," whose members advocate a no-deal Brexit. The three members of parliament said that Britain's exit from the EU had "re-defined the Conservative Party -- undoing all the efforts to modernize it."
The letter went on to add that "We find it unconscionable that a Party once trusted on the economy, more than any other, is now recklessly marching the country to the cliff edge of no deal," the group said. "No responsible government should knowingly and deliberately inflict the dire consequences of such a destructive exit on individuals, communities and businesses and put at risk the prospect of ending austerity."
The eight MPs from the Labour Party quit over Jeremy Corbyn's lack of leadership in the face of a growing anti-semitism movement in the party as well as a 'betrayal of Brexit.'
The group of 11 independent MPs sat together during the parliament session but their next move is unknown. Meanwhile, every day that goes by takes the UK closer to a chaotic future after leaving the European Union. The uncertainty around Britain's future has led MNCs to put on hold their investments into the country as well as close down manufacturing plants in order to save on costs. Britain's Bank of England has already sounded a warning bell against a no-deal Brexit saying such an eventuality would push the country into a 2008-like recession.