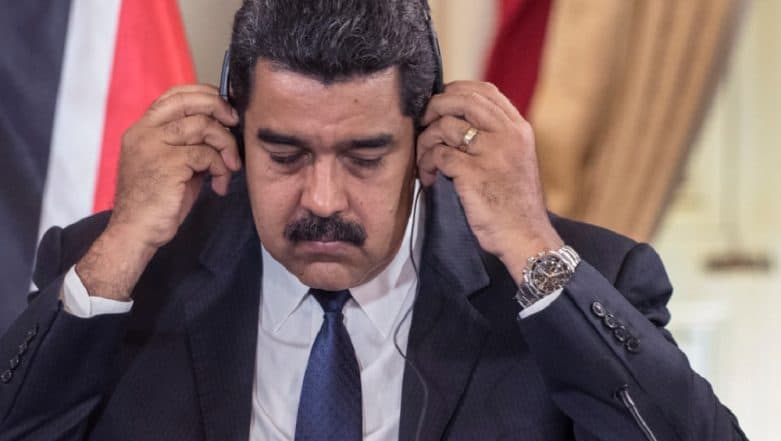 Drones armed with explosives detonated near Venezuelan President Nicolas Maduro as he gave a speech to soldiers in the capital city Caracas on Saturday but the socialist leader was unharmed, according to the Venezuelan government.
Seven people were injured in the apparent attack. Information Minister Jorge Rodriguez said, "At exactly 5:41 p.m. in the afternoon several explosions were heard. The investigation clearly reveals they came from drone-like devices that carried explosives."
Maduro was seen speaking at an outdoor military event when he and other officials suddenly looked upwards - startled. The audio then cut off. Dozens of soldiers were seen running away before the broadcast was halted. Loud bangs could also be heard in the footage. Watch the video of soldiers running away after the noise of the explosion:
However, some media reports say the government's version of the events are not true. Local authorities who spoke on condition of anonymity because they were not authorized to discuss the case said the incident was actually a gas tank explosion inside an apartment near the site of Maduro's speech. Smoke could be seen coming out a building window.
Adding to the confusion of what actually occurred, a previously unknown group calling itself Soldiers in T-shirts claimed responsibility, saying it planned to fly two drones loaded with explosives at the president, but government soldiers shot them down before reaching its target. The Associated Press could not independently verify the authenticity of the message. "We showed that they are vulnerable," the tweet said. "It was not successful today, but it is just a matter of time."
Nicholas Maduro has become a deeply unpopular leader who was recently elected to a new term in office in a vote decried by dozens of nations. Maduro has steadily moved to concentrate power as the nation reels from a crippling economic crisis.
His opponents paint him as a ruthless autocrat who detains his political rivals on overly harsh charges pressed by a judiciary under his party's control, while his followers say he is protecting the country from another coup.
His re-election in May came amid a deep economic crisis which has been driving hundreds of thousands of Venezuelans from the oil-rich country into Colombia.