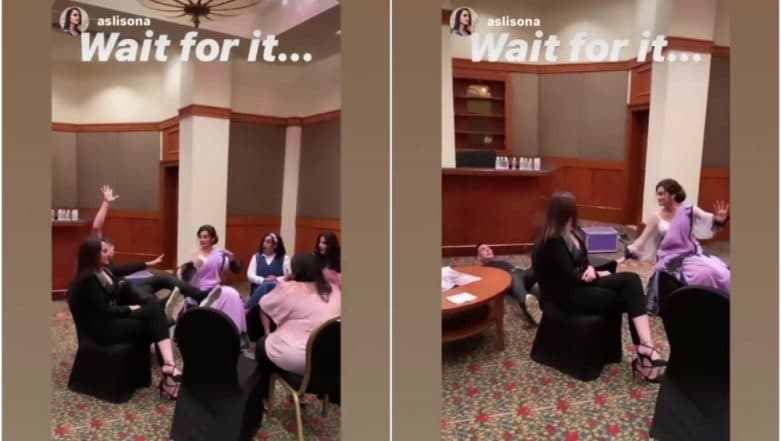 Many actors have time and again said how promotions become really hectic for them. If they have it their way, they wouldn't mind putting an end to it. But this is also the period when the actors get to spend time together even after they have wrapped the film. This is the time when their fans get to see the real camaraderie between them. While they are being totally candid, they end up giving some really funny moments to us. Like what happened between Akshay Kumar and Sonakshi Sinha during one of the media interviews recently is absolutely hilarious.
We know that Akshay is known for playing tricks and pranks with his co-stars on the sets. But he got a taste of his own medicine, thanks to Sonakshi, who knocked him over from his chair while they were busy with promotions of their upcoming film, Mission Mangal. The Kapil Sharma Show: Mission Mangal's Cast Akshay Kumar, Sonakshi Sinha, Tapsee Pannu and Kirti Kulhari Grace the Show with A Different Mission!
In the video which has been shared by Sonakshi, we see that Akshay is sitting besides her, in what seems like an interview.  While Akshay is talking, he adjusts in his chair and pushes it slightly backwards. This is where Sonakshi sees a wonderful opportunity and manages to knock him over his chair. How? Well, watch the video for we don't want to spoil the fun:
Well, turns out it was another prank by Akshay as Taapsee Pannu, who also stars in the film is heard saying that Akshay asked Sonakshi to do this on purpose. Well, clearly Akshay can never be pranked.
Mission Mangal is all set to hit the theatres on August 15. John Abraham's Batla House is also scheduled to release on the same day. Also releasing that day is Quentin Tarantino's Once Upon a Time in Hollywood. This is going to be one helluva Independence Day at the movies.