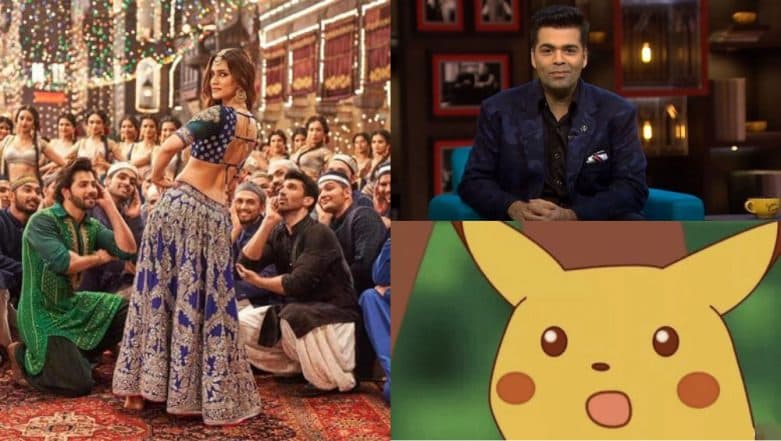 The newest song, Aira Gaira, from Karan Johar's production venture, Kalank is quite a rage on the internet. For multiple reasons. Some are simply in awe of the song and Kriti Sanon, who makes a special appearance. Some are shipping Aditya Roy Kapur and Varun Dhawan. And some are calling Karan a hypocrite. Let us hear them. So, in the new song, from the film directed by Abhishek Varma, we see Kriti dance in middle the two heroes and hundreds of other men. And that is exactly something KJo said, more than once, he'd never do in his films. Well, we are more shocked than the shocked Pikachu meme.
So, back in 2017, Karan said in an interview, "The moment you put a woman in the centre and a thousand men looking at her lustingly, it' s setting the wrong example. As a filmmaker, I have made those mistakes and I will never do it again,"
And here we are in 2019...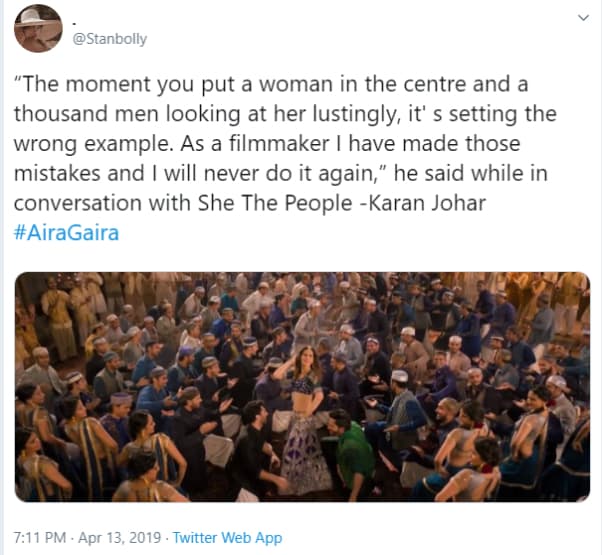 In fact, Karan had repeated his words in 2018 interview, "I have gone on record and apologized that I have had item songs in my feature films and I don't think I would do it again in a Dharma Productions film. I have no problem with a girl dancing; that's not an item number. An item song is when she is objectified and when there are men lusting for her like in 'Chikni Chameli'," Kalank Actress Alia Bhatt Offended by Kiku Sharda's Jokes on the Kapil Sharma Show? Here's the Truth.
Now, whether Aira Gaira is as sexualised as Chikni Chameli or not...we'd leave that decision up to you. For now, Twitter is enraged:
@karanjohar you're the biggest hypocrite scumbag Bollywood has seen. Well at least you're best in something #AiraGaira https://t.co/CgStvZ4Hb0

— Tam🌈🙏 (@OhDearKarma) April 13, 2019
Really, people still take @karanjohar seriously??he's always been a fair weather friend. The man is the definition of a Joke!! 🤣😭😭🙄 https://t.co/cj1PVxFrFU

— beequeensrk (@db_starlett) April 13, 2019
The only A list that @karanjohar belongs to is the A list of hypocrisy.... https://t.co/H1qw3HUWgA

— Tasneem (@tasisme) April 14, 2019
Walking the talk is not everyone's cup of "Koffee". 🙃 https://t.co/Egcy64LIxz

— Ankita (@AnkitaB06249502) April 13, 2019
We are not plugging the song here. But have a look at Aira Gaira from Kalank for a better understanding:
This won't be the first online outrage that Kalank has faced. It won't even be the second. Right after the first footage of the film dropped on the internet, fans could not help but compare it to Sanjay Leela Bhansali's template of movies. Then the movie's plot was rumoured to have been lifted from a book called What the Body Remembers, by Shauna Singh Baldwin. We wonder what's next. Kalank opens in theatres on April 17.