Karan Johar and Shah Rukh Khan's bond is something every Bollywood fan is aware of. The duo is known to be one of the super-hit combo of Bollywood and their off screen friendship is also well-known. But do you really think Karan Johar would seriously LIKE something which is said against SRK? Twitterati have turned furious ever since KJo liked an offensive post on SRK. From then #ShameOnKaranJohar has been trending on top. Karan Johar Blames 'Technical Problem' After Accidentally Liking Insulting Tweet About Shah Rukh Khan.
Social media plays a strong role in a celeb and commoners life. It is one of the strongest medium to reach the audience but one mistake, and celebs can get bashed heavily by the fans. A netizen shared an offensive post on Bollywood's Baadshah (Shah Rukh Khan) and that is something the fans wouldn't tolerate. The same post has a supportive and appreciating message for Akshay Kumar. This particular post has been liked by Karan Johar, and we are sure, it must have happened by mistake. The screenshot of the same has been taken and floated across social media platforms. Shah Rukh Khan Defends Karan Johan After #ShameOnKaranJohar Saga; 'Make Love Not War', Says KJo's Bestie.
Take a look at the screenshot which is going viral: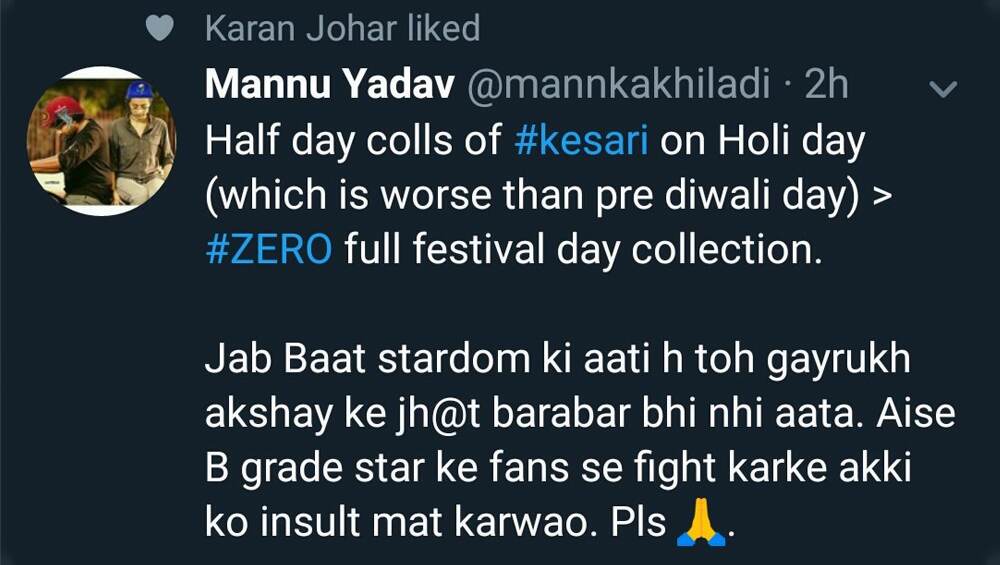 And here are some of the posts shared by Twitterati:
Tweet #1
Dear @iamsrk a enemy is beter than a person who is pretending to ne friend....#ShameOnKaranJohar

— Harshit Singh (@Harshit62472706) March 22, 2019
Tweet #2
This is a sad reality When yours friend is the snake in your sleeve It's time for boycotting @DharmaMovies #srkian

— Asad Ansari (@AnsariDobe) March 22, 2019
Tweet #3
#ShameOnKaranJohar @karanjohar agar galti se hua hai saale to maafi maang

— Tohid Khan (@TohidKh12675962) March 22, 2019
Tweet #4
#ShameOnKaranJohar if srk fan really angry with karan johar then they should boycott #kesari

— pk (@pk_nandal) March 22, 2019
Tweet #5
I like both @akshaykumar & @iamsrk but how can @karanjohar like a tweet which is so demeaning for @iamsrk and refers him as Gay...@karanjohar dogla hai Sala...#ShameOnKaranJohar

— चौकीदार पुनित कुमार (@punitdelight) March 22, 2019
Tweet #6
Srk fans reqiest u all to boycott all @akshaykumar and @karanjohar movies, akki fans always boycott srk movies #ShameOnKaranJohar

— Berozgar UK ChaukidaarHiChorHai (@iamujk) March 22, 2019
Tweet #7
Such a cheap n Creep move #ShameOnKaranJohar @karanjohar

— scoffer's meme (@scoffermeme) March 22, 2019
Tweet #8
Omg...is it true ? Not expected this..blockbuster movies dene wali jodi ab aise haal par....#ShameOnKaranJohar

— Chowkidar Arihan K bhartiya 🇮🇳 (@IndSpk) March 22, 2019
;
Tweet #9
No matter how much we fight on Twitter, it is our duty to support the right and oppose the wrong.

What Karan Johar did, is not only wrong but disgraceful and shameful. SRK is responsible for making Dharma Productions what it is today!#ShameOnKaranJohar

— VK Salmaniac (@VK_Payne19) March 22, 2019
Tweet #10
Without SRK you are nothing Karan mc astin ka saanp😈🐍.So think twice before abusing that person who supported u through your thick and thin times.Double standards wala aadmi.Boycott all Dharma movies unless Karan mc Mannat aake maafi maange.#ShameOnKaranJohar

— The_ZERO_Infiltrator (@das_aritra_96) March 22, 2019
Yes, fans who are super upset with Karan Johar are actually saying one should stop watching the films produced under the banners of Dharma Productions. In fact, the netizens are even saying, people shouldn't watch Kalank. This particular post is going viral for all the wrong reasons.