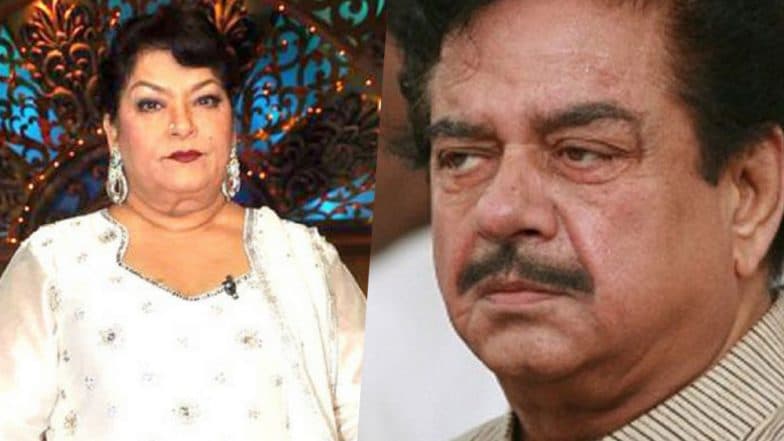 In a shocking statement to a section of the media, veteran actor and politician Shatrughan Sinha has defended Bollywood choreographer Saroj Khan's casting couch comment. Saroj's statement has been a hot topic of discussion and while the entire film industry has chosen to remain mum about the topic, Shatrugun Sinha has chosen to react to it but by supporting the choreographer.
When quizzed about Saroj's comment, Shotgun Sinha said, "Neither Saroj Khan nor Renuka Chowdhary is wrong. Sexual favours are demanded and given in both the entertainment world and in politics. It's an old and time-tested way of getting ahead in life. 'You please me I'll please you'." "This has been happening since time immemorial. What is there to get so upset about," Sinha added further.
Defending Saroj Khan, he said: "Saroj Khan's contribution to choreography and to shaping the careers of Rekha, Madhuri Dixit and the late much-missed Sridevi, was invaluable. Saroj Khan is a legend in her own right. She often speaks from her heart and lets emotional correctness rule over political correctness. If she said that girls have to compromise sexually in Bollywood, she must be aware of what goes on."
Sinha himself does not deny the existence of the casting couch. "I completely agree with both Saroj and Renuka. I know the kind of compromises girls have to make to get into films. Perhaps Sarojji has herself gone through her own pain and humiliation."
"As for politics, I don't know what we can call the casting couch in politics may be the casting-vote couch. Of course the young aspiring brigade is known to offer sexual favours and of course, the senior brigade is known to accept. I am not saying it is right. I would never be part of such a compromise. But we cannot shut our eyes to the reality around us. Don't condemn Sarojji for speaking the truth," he said.
The actor further stated, "Condemn those who create a situation where girls and boys feel they have to compromise to get ahead in life." However, Sinha is quick to point out -- like Khan -- that the casting couch is a personal choice. "What happens on the couch or wherever two people come together, is a matter of personal choice. No one is forcing any girl or boy to lie down on the couch. You have something to give and you are offering it to someone who is interested. Where is the coercion or compulsion?"
Speaking on the topic, Saroj had earlier said, "Can I tell you one thing? This has been going on since the beginning of time. It hasn't started now. Someone or the other tries to take advantage of every other girl. The government's people do it too. Then why are you after the film industry? It provides livelihood at lead. Does not rape and leave you. It depends upon the girl, what she wants to do. If you don't want to fall in wrong hands, you won't. If you have art, then why would you sell yourself? Don't take film industry's name, it is everything for us." Check out the video below:
Veteran Choreographer Saroj Khan gave a bizarre justification of prevailing casting couch situation in the film industry, claiming that 'casting couch at least provides livelihood' pic.twitter.com/Gh0FguJJ0s

— TIMES NOW (@TimesNow) April 24, 2018
A few days back, Ranbir Kapoor too was asked to comment on Saroj Khan's casting couch statement at an event where he said, "I have never faced it. If it's there, it's the worst kind." When Sonam Kapoor, Kareena Kapoor and Swara Bhasker were asked to comment on the same at the trailer launch of Veere Di Wedding, they too refrained from talking about it.
What Saroj Khan said was absolutely insensitive and she was quick enough to apologise for it. However, what's your take on Shatrughan Sinha's statement defending Khan? Let us know in the comments below.