Many of your favourite stars are avid bookworms and often seen with a book in hand or in the bag. Recently Sonam Kapoor Ahuja had started this interesting challenge on Instagram where she nominates fellow Bollywoodians to reveal which of their favourite books has been best adapted on screen. Through her Insta posts, Sonam challenged a number of celebs including her own family members, while also revealing that she is a total book aficionado.
And it is while tagging some of her family members that a very comical thing happened, thanks to always funny Farah Khan. So what happened? So Sonam had tagged cousin Arjun Kapoor in one of her posts. To which Arjun Kapoor replied with his favourite book-to-screen adaptation, Gone Girl. And in his post, he tagged his sister, Anshula Kapoor. Sonam later reposted this one on her own Insta timeline.
This lead to Farah Khan to comment, "Will you only nominate family or people who actually read?" Call that a savage 'nepotism burn', just kidding! And Sonam immediately tagged Farah and Priyanka Chopra just so that it is not all about the family!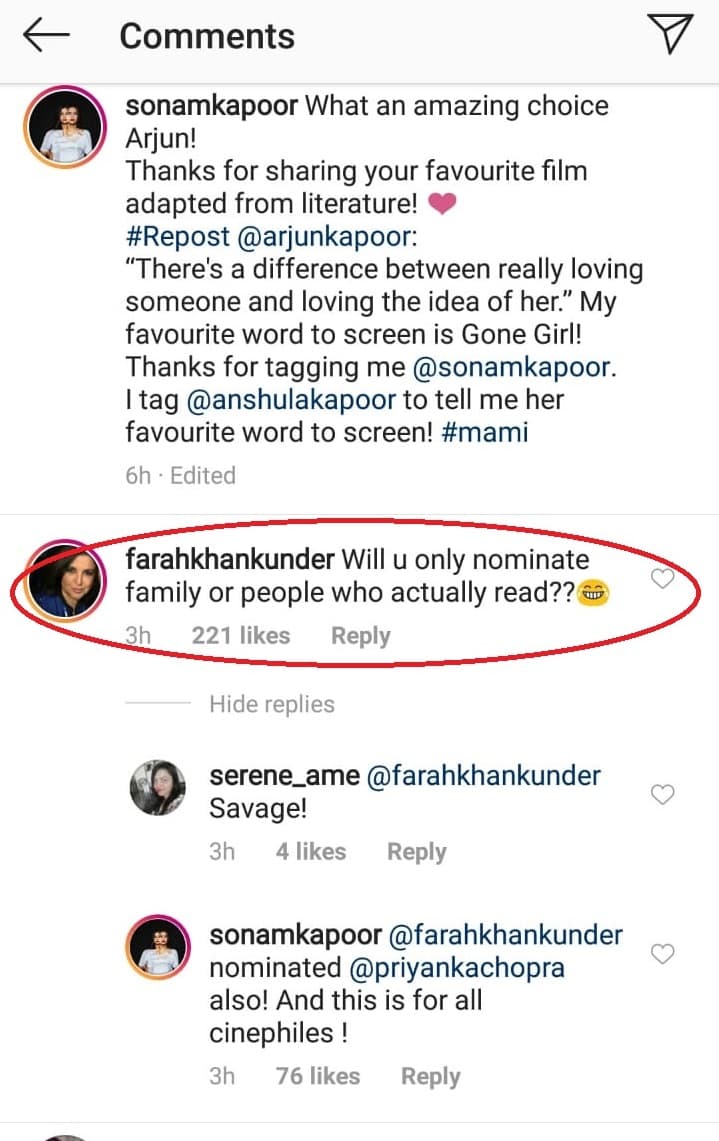 Just in case you missed it, Anshula had tagged Janhvi in her post, who replied with her favourite -
To be fair to Sonam, she had also nominated Alia Bhatt too! See Alia's post on this!
Well, this challenge is better than the stupid Kiki and Momo challenges that some of the people are in these days! So more power to Sonam Kapoor!
(The above story first appeared on LatestLY on Sep 01, 2018 10:23 PM IST. For more news and updates on politics, world, sports, entertainment and lifestyle, log on to our website latestly.com).