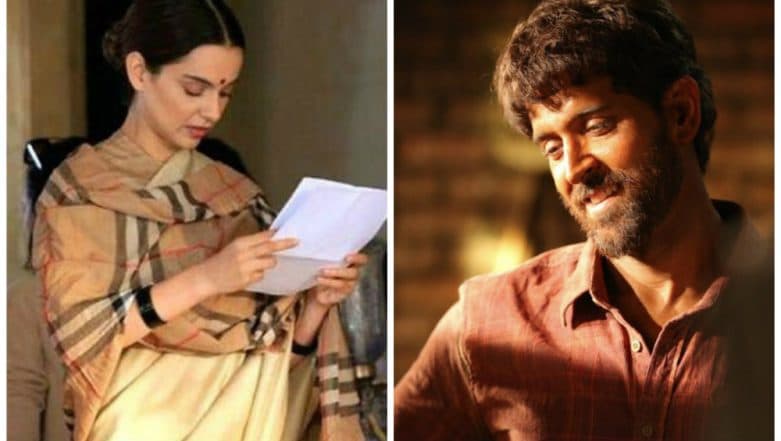 Hrithik Roshan's Super 30 and Kangana Ranaut's Manikarnika - Queen of Jhansi was touted as the first box office clash of 2019. None of the actors were adamant to push their release date and we were excited to witness this big battle. However, soon after Super 30's director, Vikas Bahl's name was embroiled in controversy (#MeToo allegations), makers decided to put the project on a back burner. There were reports suggesting that Vikas' name would be removed from the movie credits but no further announcement on the same has been made yet. While Kangana's historical saga is all set to hit the screens on January 25, Hrithik is still waiting for his trailer release. And the reason for his long delay is not the director's controversy but something else. Hrithik Roshan's Super 30, Akshay Kumar's HouseFull 4 - Popular Projects in Trouble After #MeToo in Bollywood Gets Stronger.
As per a report in Bollywood Hungama, the makers of Super 30 decided to shoot some additional portions that will take more time. "They are likely to shoot further, add incidents to the Anand Kumar saga that were not used earlier. Anand Kumar is not just a great mathematician. There are many sides to his personality that were not fully explored in the bio-pic. They are now looking at expanding the bandwidth of the biopic," said a source close to the producer. Has Kangana Ranaut Opened Up About Vikas Bahl Sexual Allegations to Avoid Manikarnika-Super 30 Clash? Twitterati Feels So!
View this post on Instagram
The mathematician and the real inspiration behind this movie, Anand Kumar, further confirmed this news. He said, "Many things have happened. I was attacked from many sides. Recently my brother suffered a road accident which I suspect to be a deliberate attempt on his life. I have many enemies, as all successful people do. But I have many more well-wishers than ill-wishers. I want all of this to be there in the film." Even Hrithik has no qualms in extending the shoot of this biopic as he believes it will make the project more interesting. While the shoot for the movie is still on, we now wonder about its new release date. Any suggestions when HR can release his first ever biopic?