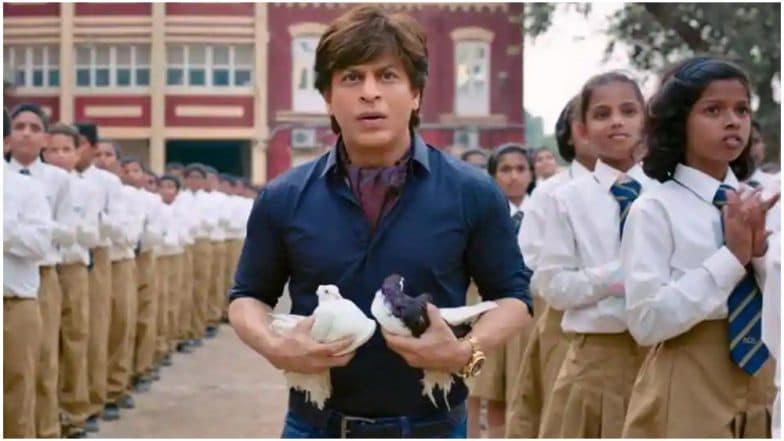 Zero is releasing on December 21, and its lead star and producer Shah Rukh Khan is promoting the film wherever he can. He has also been holding special private screenings for some of his close associates in the industry. So fans are quite eager to see what's the first impression these early birds are having about Zero. And so are we, since Zero is a make or break deal for Shah Rukh Khan. After going through a lean phase with back to back duds, Shah Rukh Khan is leaving no stone unturned to make Zero a hit! Zero Controversy: Here's How Shah Rukh Khan's Film Will Alter Scenes Showing 'Kirpan' After Sikh Community Raises Objections Over It.
So while I was scourging for any reviews for Zero, I came across some very bad opinions of the film, posted by influential trade experts like Girish Johar and Raj Bansal, the latter also mentioning that the movie is seeing low occupancy. I also came across a few tweets from popular journalists like Rajeev Masand, Anupama Chopra, Rahul Raut, who have criticised the film. Considering that there was no special screening held for press yet, this was definitely intriguing. 'Zero' Movie Gets a Thumps Up From IPL Chairman Rajeev Shukla, Says Shah Rukh Khan's Film Will be a Superhit.
On a closer look, most of these Twitter handles had no blue tick and had very few followers, which means they were recently created. So not only are these handles fake, they are made only to create a negative impression for the film. Check them out below -
Fake ID made in the name of trade expert, Girish Johar.
#Zero distributors' report is SHOCKING !

Not a good sign for the industry. Hope audience receives it well. Fingers crossed.

— Girish Johar (@girishjoharr) December 18, 2018
Fake ID made in the name of distributor, Raj Bansal.
Advance booking of #Zero is way below the mark at the moment. Have to show miraculous jump from here on to post a respectable opening day collection.

— RAJ BANSAL (@rajbannsal) December 19, 2018
Fake ID made in the name of critic, Anupama Chopra.
#Zero is messy, flawed and it broke my heart.

— Anupama Chopra (@anupamaachopra) December 18, 2018
Fake ID made in the name of critic and journalist, Rajeev Masand.
#Zero is a film about stupid people who do stupid things while stupidly trying to convince themselves they're doing it for love.

— Rajeev Masand (@rajeevmasannd) December 18, 2018
A fake id made in the name of Komal Nahta, trade analyst.
When makers are not confident on their product, they either postpone/delay #UAE release. after #JHMS Now #Zero Release on Friday ...In UAE

— Komal Nahta (@KomalNahtaa) December 19, 2018
The fake handle of freelance journalist, Rahul Raut 
Watched #Zero in a special screening , i went with lots of expectations but movie falls flat just after 30min ,plot is very weak unnecessary illogical cringeworthy dialogues , overacting of Srk and Anushka made the movie unbearable , really disappointed .

— Rahul Raut (@Rahulrautwretes) December 18, 2018
Here's the fake Twitter handle in the name of Mumbai Mirror journo Himesh Mankad - 
#Zero is disjoined, boring and at times even illogical. It goes on and on for 160 mins, and still leaves several questions unanswered. It is not just a weak film but also a contender for one of the worst films of the year.

Audience after watching this film will be saying : - pic.twitter.com/mHGcn4AE8n

— Himesh Mankad (@ranbir_aamir) December 18, 2018
Well, not all Twitter handles are creating negativity for Zero. Here's a fake Twitter handle made in the name of trade analyst and critic, Taran Adarsh, calling the movie a 'masterpiece'.
#OneWordReview#ZERO : M-A-S-T-ER-P-I-E-C-E

Rating: ⭐⭐⭐⭐½

Engaging, Powerful, Comedy, Emotional....Everything in the movie. #SRK proves yet again he is the KING of acting. #Zero will run riots at box office from 21st December. #ZeroReview

— taran adarsh (@taran_adash) December 18, 2018
Of course, this is not exactly a new fad as we have seen in the past how fan-clubs of opposing stars try to create a bad impression of a movie just before the release. Seeing how many RT's and likes these fake handles are getting for their tweets, it is a scary situation indeed. Let's hope that Shah Rukh Khan, Aanand L Rai, and the Zero team, moreover Twitter, themselves are making sure to curb these fake handles.