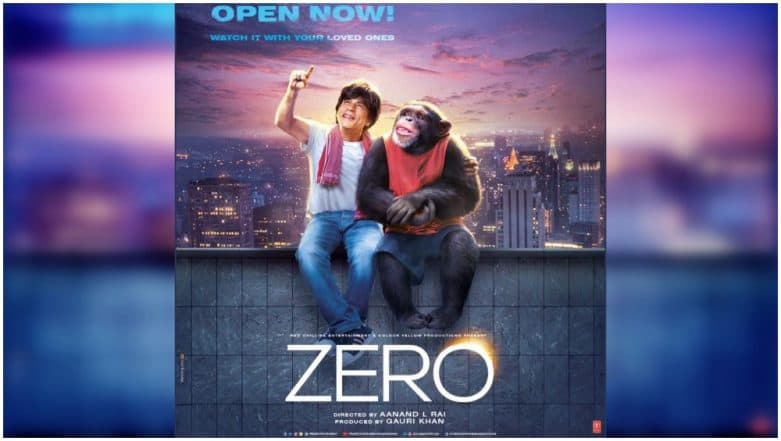 Okay, are we making a Bollywood version of Hollywood flick Dunston Checks In with Zero? The trailers of this much-anticipated film did not even hint at a primate sharing screen with its human counterparts, and yet now we have a poster that says otherwise. The very interesting and definitely quirky poster has Shah Rukh Khan's character Bauua Singh sitting on a ledge with a chimp, dressed in a red vest, like old buddies, with Bauua Singh pointing at something in the sky. Totally WTF! Zero Becomes India's First Movie to Launch Snapchat Lens! Its Lights, Camera, Snap for SRK-Starrer.
The funny part is the tagline of the poster - 'Watch it with your loved ones'. So what exactly is Shah Rukh Khan pointing and where did that chimp come from? Oh, that poster leaves us with so many questions. And of course, the biggest of them all - will this one will bring more trouble for the film. Zero has already faced the wrath of a Sikh community for insulting their sentiments, and a complaint has recently been registered with NCW against the movie for poking fun at physically challenged women. Now what's left is PETA! Shah Rukh Khan's Zero in Fresh Trouble for 'Insulting' Physically Disabled Women - Read Deets
As per a leaked CBFC cuts document for Zero, the chimp is called Diya! Also it was a name that Censor Board wanted to be changed to. So not only does the primate has a role in the film, its original name also seems to be something that bothered the Censors.
THIS POSTER IS OFFICIAL,

CHIMPANZEE'S NAME IS "DIYA" BC YE PICTURE BAWALA KAREGI

SEE PIC 2 CUT NO. 4@aanandlrai SIR KUCH ALAG PAK RAHA H IS BAAR #Zero #ZeroAdvanceBegins pic.twitter.com/qtA1CfZZLa

— SRK'S Mjölnir (@mayankr268) December 18, 2018
That said, Shah Rukh Khan's left arm seems very long and his fingers wrapped around the chimp's arm looks very weird!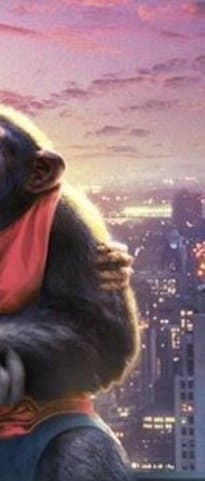 Snides aside, the poster also confirms the fact that the advance bookings of the film are open. Zero has been showing very strong occupancy in many parts of India, especially in Mumbai and Delhi-NCR territories. Even in the Gulf regions, the advance bookings are going strong. Zero Advance Booking OPEN: Here's Where You Can Book Your Tickets for Shah Rukh Khan's Film
Zero is directed by Aanand L Rai, and also stars Katrina Kaif and Anushka Sharma. Shah Rukh Khan plays a vertically challenged man in the film, while Anushka and Katrina play a paraplegic scientist and an alcoholic actress respectively. Zero is all set to release on December 21.