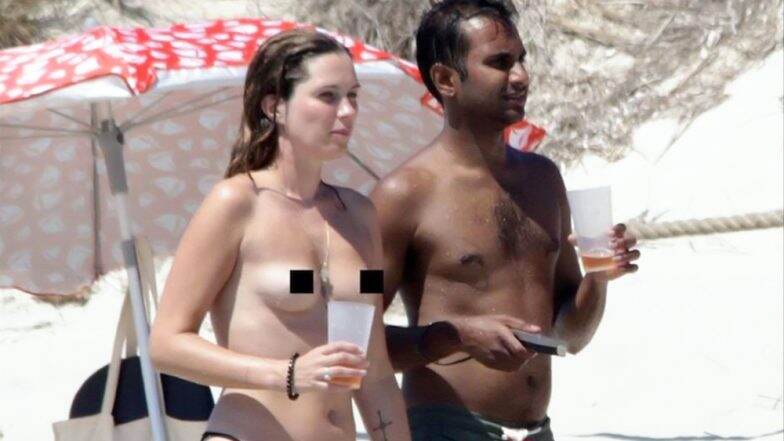 Camila Cabello and Shawn Mendes, you have competition. After the PDA packed dinner date of Shawmila, Aziz Ansari and Serena Campbell are here to show off their love. On their trip to Spain, the couple couldn't keep their hands off each other as the topless duo strolled on the beaches. The two spent their day by the sea and got the temperature higher with their super handsy PDA. The comedian recently landed on number 10 of Forbes highest-paid comedians, 2019 and maybe this is a celebration vacay. Camila Cabello and Shawn Mendes Can't Stop Kissing; Her Ex Matthew Hussey Makes Video on 'Pain' and Moving On.
Aziz Ansari hit the beach in Spain with his girlfriend of over one year, Serena Campbell. The two were spotted last year when they attended the U.S Open Tennis Championships at Flushing, in New York. After her identity was revealed as a physicist, people were rather shocked. After a year of growing stronger, Aziz and Serena can't stop the kissing and nuzzling even in public. Is it honeymoon period for every couple? We get this, and then we get Shawn Mendes and Camila Cabello everywhere we look. Aziz Ansari Addresses Sexual Misconduct Allegations in His New Netflix Special Right Now, Says 'I've Felt Embarrassed'.
Aziz Ansari and Serena Campbell's PDA Packed Spanish Getaway
Aziz Ansari Hits Spanish Beach with Topless Girlfriend https://t.co/hQSmn7vGRj pic.twitter.com/5h8fCMlbM2

— Nicholas Norman (@nicholasanorman) August 19, 2019
The two were spotted on the island of Formentera on Sunday, chilling and enjoying the summer, drinking beer and enjoying each other's company. While things look great in his love life, the backlash over the #MeToo allegations on Aziz Ansari is still infuriating to people. People on twitter have nothing positive to say about the couple after what was revealed about the comedian.