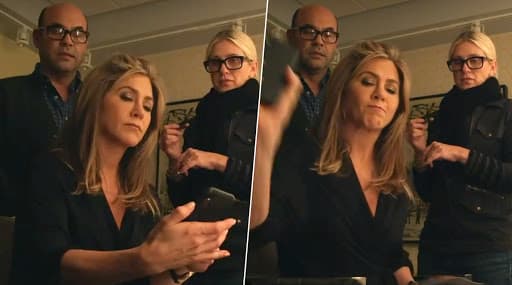 Jennifer Aniston's Friends selfie is all people can talk about on the Instagram and other social media apps. How the camera is a bit off, how lovely they look, how the Friends are actually friends for real, so on and so forth. Apparently, Instagram couldn't take so much load and started to behave funnily. Now after breaking the internet, Aniston threw her phone and thanked everyone for the 'Glitchy' welcome! Producers Didn't Want a 'Friends' Movie: Jennifer Aniston
A second post from Aniston went up couple of hours back which has her throwing her phone. She was at the Jimmy Kimmel show recently. She might be new to the space but she knows what will keep her over 10 million followers, which she accumulated in just two days, entertained.
But you need to check out the selfie one more time before that happens...
View this post on Instagram
Now that Rachel is on Insta, we look forward to the Ones where there will be more get-togethers of the cast from the hit 90s sitcom.