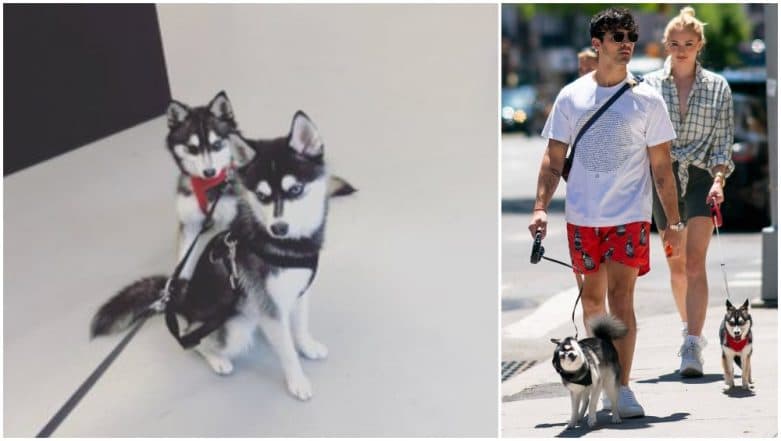 Joe Jonas and Sophie Turner, who tied the knot recently, are mourning the loss of their dog Waldo Picasso. As per reports Waldo, an Alaskan Klee Kai, was struck and killed by a car in Manhattan, New York City. The couple has filed a report about this incident (which took place this week) to the New York Police Department (NYPD). Jonas' rep told TMZ that Waldo, who was on leash, was taken for a stroll by his dog walker. Joe Jonas and Sophie Turner Snapped in Cosy Cuddle on Their Maldives Honeymoon and We Can't Deal With This Cuteness - See Pics.
The incident took place after a pedestrian 'spooked' Waldo Picasso and he broke free. The rep described this as a 'freak accident', reports TMZ. The couple has not made any official statement about it yet. Joe Jonas and Sophie Turner welcomed Waldo into their family in April last year. In fact, the pet even has an Instagram account with an impressive 45.3k followers. There is just one picture of his which was posted on April 16, 2018. There are many who have commented on that picture after his death. Joe Jonas and Sophie Turner's Exotic Honeymoon Pictures From Maldives Are Too Hot to Handle.
Here's the picture of Waldo Picasso on which his followers have commented, Rest in Peace:
View this post on Instagram
Joe Jonas poses with his pets
Porky Basquiat and Waldo Picasso
View this post on Instagram
On April 16, 2018, Sophie Turner had shared an adorable picture of Waldo Picasso captioning it as, "Welcome to the family @waldopicassojonas". The pet is seen along with other pooch, Porky Basquiat. There have been pictures of the two pets often taking the internet by storm, when the couple takes them out along with them. Joe Jonas and Sophie Turner who are shocked by Waldo's death, filed the report to NYPD after two days of the incident.