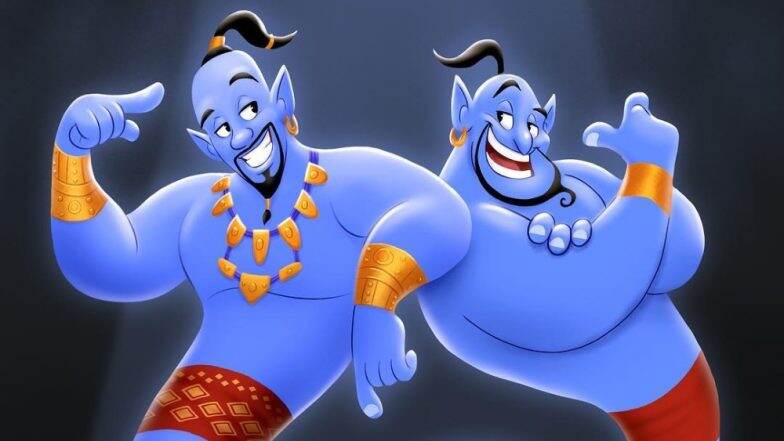 People are finally warming up to Will Smith as the new Genie in Aladdin's live-action film. The role, which was originally played by the late Robin Williams in the animated version of the film Aladdin, was too good to be true. Surely, having done such a fine job with just his voice, Williams made the character unattainable for any other artist.
And like Smith, who took up the role in Guy Ritchie's version of Aladdin, recognised the same. He expressed how Williams Genie act was a tough one to recreate in a recent Instagram post. Sharing a picture of the old animated Genie with Smith's version of Genie, the actor captioned the post, "I know Genies don't have Feet... But you left some Big Shoes to fill. 😊 R.I.P., Robin! And Thank You, @helloluigi Love the artwork!" That is quite genuine!
Will Smith's tribute to Robin Williams
Surely, the teaser made everyone dislike Smith's blue genie act. However, with the trailer having released, hopes to see the actor nail the performance has been uplifted! Although to be quite frank, I'm not very thrilled with the casting of Mena Massoud and Naomi Scott. Will Smith can pull the punches but will Naomi and Mena be able to do justice to the role? Well, only time and the release of the film can tell!
Guy Ritchie's Aladdin stars Mena Massoud take up the titular role as the 'diamond in the rough' while Naomi Scott plays his love interest, Princess Jasmine. Marwan Kenzari will be essaying the role of Jafar while Navid Negahban will play The Sultan. The other cast includes Nasim Pedrad as Dalia, Billy Magnussen as Prince Anders and Numan Acar as Hakim. The film is set to release on May 24, 2019!