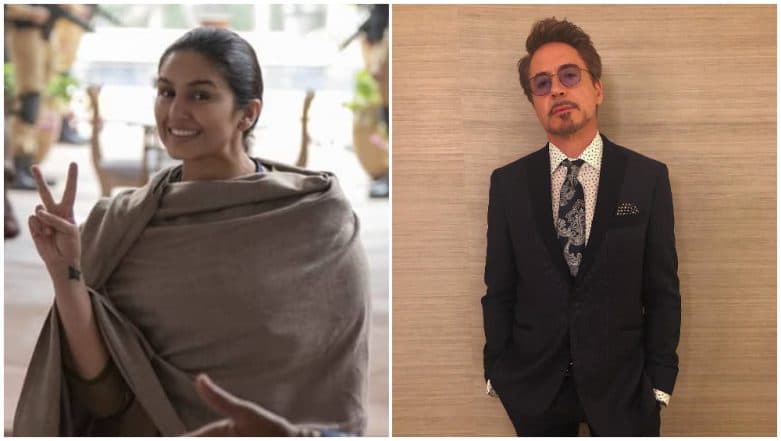 Probably after Gangs of Wasseypur 2, the audience is once again talking about Huma Qureshi with utmost enthusiasm. The actress' latest project, Netflix's original series Leila, is quite the talk of the town. The show has become so popular that the actress is hanging out with Robert Downey Jr. Huma shared a picture of the same on her social media pages. Well, sort of. The picture that the actress shared is simply a wordplay and she is not actually hanging with the Avengers: Endgame star. The billboard of Leila is affixed right next to a billboard featuring Robert. The actress casually captioned her pic, "Tony Stark and me hanging out," Bend It Like Beckham Director Gurinder Chadha Can't Stop Praising Huma Qureshi's Netflix Series Leila.
But chilling with the Hollywood stars is definitely a possibility in the near future for Huma. The actress is all set to make her Hollywood debut with the film, Army of the Dead. The movie is being directed by prolific filmmaker Zack Snyder, who also made movies like Justice League and Batman VS Superman. The movie also stars Dave Bautista in a lead role. The zombie horror film will be exclusively released on Netflix. So, yea maybe within a year, we will see Huma hanging out with Hollywood biggies for reals. Looking forward. Leila Season 1 Review: Huma Qureshi and Siddharth's Brilliantly Enacted Netflix Series Is a Claustrophobic Vision of a Terrifying Future.
Check out Huma's Instagram post with Robert Downey Jr here:
Huma's Leila is set in a dystopian future where India has been renamed as Aryavat and cast segregation and religious segregation are the way to live. Huma's daughter, named Leila, is taken away from her as she is born from a Hindu mother and a Muslim father. This leads Huma on a journey which shakes up the entire system.