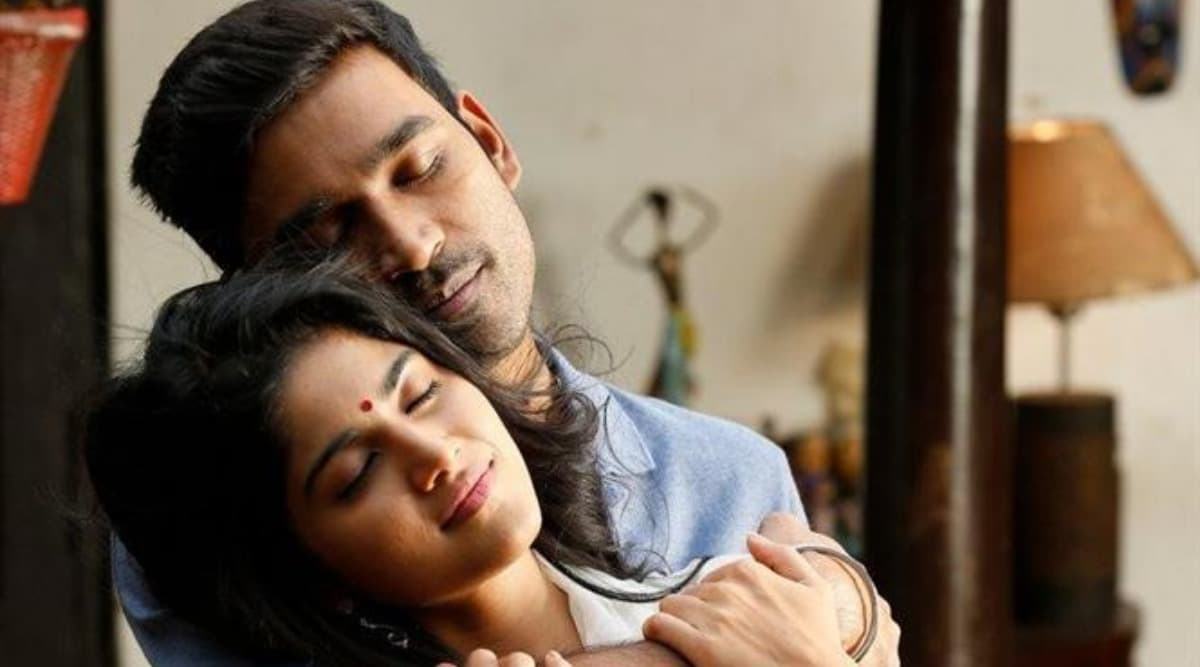 After several delays, the film Enai Noki Paayum Thota (ENPT), starring Dhanush and Megha Akash, has finally hit the theatres. The film has undergone several delays and the release date has been postponed. In fact, fans even doubted whether ENPT would ever get a theatrical release. But that day has finally come and fans cannot contain their excitement. They have been trending the hashtag #ENPTFromToday on Twitter. Enai Noki Paayum Thota: These BTS Stills of Dhanush from the Sets of ENPT Are A Must See (View Pics).
Enai Noki Paayum Thota is written, directed and produced by Gautham Menon. The film was initially scheduled for release in December 2018. But due to unknown reasons, it was delayed. Later, due to financial reasons, the film (that was scheduled to release in May 2019) was once again delayed. In August it was announced that ENPT would hit the screens in September, but that did not happen and was pushed to November 15. After Ishari Ganesh of Vels Films International bought the rights of ENPT, the film has finally been released on November 29. Let's a take a look at what the fans have to say. Enai Noki Paayum Thota: Dhanush-Megha Akash's Fans Trend #ENPTCommonDP to Celebrate This Romantic Thriller's Release.
Sheer Excitement
No Govt Holiday !

No Festival Time Release !

Not one movie one year !

No Grand Audio Launch !

No Big Promotions Etc !

But Still ENPT Is the 1st Film in 2019 which is releasing all the 5 screens In Rohini Fans Fort FDFS also Houseful !#ENPTFromToday@dhanushkraja 👍

— D F C vijay™ᴱᴺᴾᵀᶠʳᵒᵐᴺᵒᵛ²⁹ (@DFC_Vijay_) November 29, 2019
Expecting It To Be A Blockbuster
@menongautham movie should be the industry hit and I want to see you in full swag with your future projects sir 😊 we will keep admiring u 🖤 #ENPTFDFS #ENPTFromToday pic.twitter.com/OHAjGPcy24

— Vignesh Elango (@vigneshelango28) November 29, 2019
Waiting To Watch Him On The Big Screen
Waiting for since 3 years to see this hottest man 🔥🔥😍😍 now can't wait to see in few hours @dhanushkraja thalaivaaaa !!! #enptfromtoday pic.twitter.com/kt0CRujpP7

— Nellai District Dhanush Fans Club (@Nellai__Dfc) November 29, 2019
The Celebrations Have Started
Celebration kicks start 🔥#ENPTFDFS #ENPTFromToday pic.twitter.com/Y7ZijFyOqK

— Troll VIP™ (@Trollvipoffl) November 29, 2019
Yes! ENPT From Today
Finally @dhanushkraja best wishes too... Finally a Long wait is over..! Cannot wait for classic Dhanush❤#enpt mode on.. #ENPTFromToday

— TROLL MEMES 💥 (@troll_Memes09) November 29, 2019
Watch The Trailer Of Enai Noki Paayum Thota:
There are who have managed to catch the first day first show of Enai Noki Paayum Thota. The movie had started its production back in 2016 and had completed the shoot last year. ENPT also features Sasikumar, Vele Ramamoorthy, Senthil Veeraswamy and Sunaina in key roles. Stay tuned as we bring to you more updates from the world of entertainment.