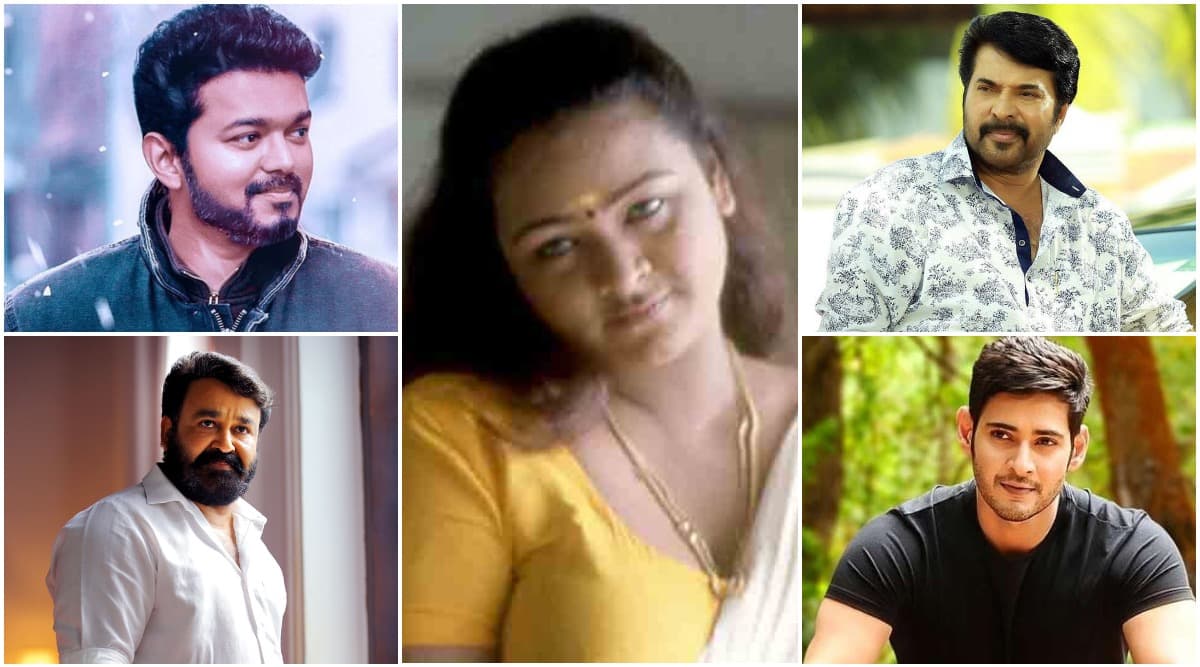 If you are a Malayalam movie buff from the '90s to the present, and claims to never have heard of Shakeela, the chances are, you are probably lying. For you can't have gone through the previous decade, without having experienced or at least heard of the Shakeela tharangam. She is mainly attributed to the reason why softcore cinema became mainstream in Malayalam cinema in the early part of '2000s. She is also the reason why high-on-hormones teenagers and youngsters got hooked on to Surya TV's Saturday midnight specials. Well, hope this article does take you back to the nostalgic path of horniness. Richa Chadha as Shakeela Looks Very Convincing in the First Look Poster of the Biopic.
Shakeela, who came from a very modest family, began her career in small roles in Tamil and Malayalam commercial films. She later transitioned to softcore cinema, and had done quite a few movies in the genre. One such movie, Kinnarathumbikal, that came out in 2000 was one such fil. Made on a meagre budget of Rs 12 lakhs, Kinnarathumbikal went on to earn more than Rs 4 crore. This was at a time when movies featuring superstars like Mammootty and Mohanlal were failing to work at the box office. The success of Kinnarathumbikal encouraged the producers to make more softcore movies and the distributors to screen them in proper theatres, instead of the seedy ones. Many of those erotic movies, some of them not even starring Shakeela, turned out to be profitable ventures, till the fad died a slow death in the latter part of the decade. Sunny Leone, Sanjay Dutt and Now Shakeela- Are Bollywood Filmmakers Deliberately Cashing in On Controversial Celebs For Biopics?
With the demand for the genre that made her famous reduced considerably, Shakeela begin to appear in mainstream films, mostly spoofing her own image. She also got the chance to appear in the films of major superstars in Tamil, Telugu, and Malayalam cinema. In this special feature, we look at seven times when Shakeela memorably appeared in superstar movies.
Mammootty (Movie: Marumalarchi)
Before she became a hot rage and even beating Mammootty at the box office, Shakeela had a minor role in this 1998 Tamil film, featuring the Malayalam superstar in the lead.
Shakeela had played a girl who works in the household of the protagonist.
Chiyaan Vikram (Movie: Dhool)
Dhool, that came out in 2003, was one of the films that were instrumental in catapulting Chiyaan Vikram to superstardom. The movie had two female leads in Jyothika and Reemma Sen.
Shakeela plays herself in a crucial but funny scene. The hero decides to teach a corrupt minister (Sayaji Shinde), by stealing his signature and using it in a letter to praise adult films. This gets published in the newspapers, getting the minister a lot of bad press. The only silver lining for him was when Shakeela personally comes to thank him for endorsing her films.
Thalapathy Vijay (Movie: Azhagiya Thamizh Magan)
This Thalapathy Vijay entertainer had the Tamil superstar in dual roles, where one of the characters had negative shades.
The other character is a jolly fellow who stays in a rented house, along with his friends. Guess who the houseowner is? Shakeela, playing herself!
Mahesh Babu (Movie: Nijjam)
Mahesh Babu's Nijjam came out in 2003 and was a hit at the box office. The movie also starred Rakshita, Gopichand and Raasi in the lead roles.
Shakeela had a comic role in the film, where she gets to thrash a couple of policemen!
Pawan Kalyan (Movie: Bangaram)
The Telugu film Banagaram, that came out in 2006, was an action entertainer starring Pawan Kalyan in the lead. The movie featured an ensemble cast, which includes, Reemma Sen, Meera Chopra, Sanusha, Ashutosh Rana, Mukesh Rishi and others.
Shakeela had a brief role, where she gets to use her famous seductive lip biting to a good effect in a comic scene.
Mohanlal (Movie: Chotta Mumbai)
Perhaps, the best Shakeela appearance in this entire list comes here in this Mohanlal action-comedy. She plays herself who comes to shoot an adult movie in the protagonist's town, while the hero and his cronies manipulate themselves in being part of the film. It is one of the funniest scenes in the movie.
Interestingly, Chotta Mumbai raised another controversy with regards to Shakeela years later. Shakeela claimed in an interview that she wrote a romantic letter to the actor/producer Manianpillai Raju, after he helped her get through a financial crisis. However, Manianpillai Raju, while agreeing that he did help her, says there were no romantic letters involved and he was hardly aware that she took a liking for him
Prithviraj Sukumaran (Movie: Teja Bhai & Family)
This Prithviraj Sukumaran gangster comedy featured an ensemble comedy cast, including the likes of Salim Kumar, Suraj Venjaaramoodu, Jagadeesh, Jagathy Sreekumar, Bindu Panicker and so on.
Shakeela appears in a scene, where she plays a census taker who catches the creepy fancy of Suraj's character.
Shakeela is also having a film made on her life with Richa Chadha playing her in the film. Titled Shakeela - Not a Porn Star!, the movie is directed by Indrajith Lankesh.