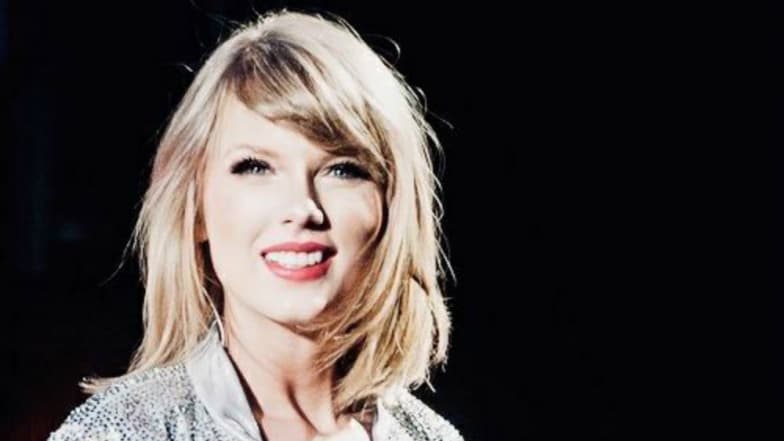 Taylor Swift fans have all the right reasons to rejoice as the singer has shared her new single 'Lover' -  the title track from her next studio album. Her seventh studio album will release on August 23 and this also marks her first with a new label company, Republic. This new song is her fourth single following others like ME!, You Need to Calm Down, and The Archer. The track has all the right notes to be an instant favourite with the listeners and we are already hearing it on loop.
While we wait for the singer to release her entire album, that's barely a week away, the internet is currently going gaga over her newly released single. Listeners are mighty impressed with the singer's new song and some are even finding it too emotional. With some beautiful words and a melodious track, Lover is the go-to song for all the die-hard romantics. Check out other reactions from Twitterati below. Katy Perry Ends Her Feud With Taylor Swift and Her Instagram Post Is the Proof.
Beautiful words
nothing's more beautiful than deep songwriting #taylorswiftlover pic.twitter.com/VIkTUv9BMo

— 𝙥𝙚𝙖𝙣𝙪𝙩 🥜 (@forevergl6w) August 16, 2019
This one's for all the lovers out there
For all the lovers out there 💘the long wait is over I love you forever and ever @taylorswift13 #TaylorSwiftLover #Lover pic.twitter.com/oYJFVlvO2P

— Ja Concepcion (@jahmazing12) August 16, 2019
A masterpiece
THE GUITAR

THE VOCALS

THE LYRICS

THE VISUALS

A MASTERPIECE

You're my my my loverrrrr.😭💘🎶@taylornation13 @taylorswift13

#TaylorSwift #taylorswiftlover pic.twitter.com/UFZoW2UEL8

— Abhinav Gupta (@Abhinav99630892) August 16, 2019
Somebody will love you like that
Lover is the song that's given me new found hope that I can have that one day. Somebody will love me like that. I'll love them right back. It'll happen. @taylorswift13 @loveralbum13 #taylorswiftlover #TaylorSwiftisLovedParty #Lover #LoverAtMidnight

— Livvi Barns (@_littleruth) August 16, 2019
It's precious and so emotional
Me listening to Taylor Swifts new song #Lover pic.twitter.com/7EmlFW2eOT

— Jayme™ ✨⚔️ (@Strudelmeow) August 16, 2019
Has she found it?
I'm used to crying to @taylorswift13 songs, but #Lover is a new feeling.

I'm not crying because of heartbreak.

I'm not crying because of hope.

I'm crying because this is the song someone writes when they're no longer searching for love...

She's found it.

— Alex Goldschmidt (@alexandergold) August 16, 2019
A wedding song already!
NOT TO BE THAT PERSON BUT LIKE I DONT CARE WHO I MARRY THIS IS MY FUCKING WEDDING SONG #LOVER

— COREY 💗💗 (@TaySayHey_13) August 16, 2019
What makes this song so beautiful?
The fact Taylor Swift wrote this song by herself makes it even more beautiful #Lover

— B (Fan Account) 🏹 (@TS7Track3) August 16, 2019
The force is with you
how will i handle an entire album next week if im already such a mess after one track #lover #LoverAtMidnight pic.twitter.com/0Sdjgp6joA

— sai 💘ᴸᵒᵛᵉʳ (@comemorninglyt) August 16, 2019
What makes her new album more special is the fact it's her first with a new label. Earlier the singer was attached to Big Machine Records, the label best known for its long-term partnership with her. After talent manager Scooter Braun bought the label, Swift in her lengthy message on Tumblr wrote about how Braun owning her master recordings is a worst-case scenario. "Essentially, my musical legacy is about to lie in the hands of someone who tried to dismantle it," she said frustrated. However, with a new label coming in the picture, we are hoping for her to let bygones be bygones.