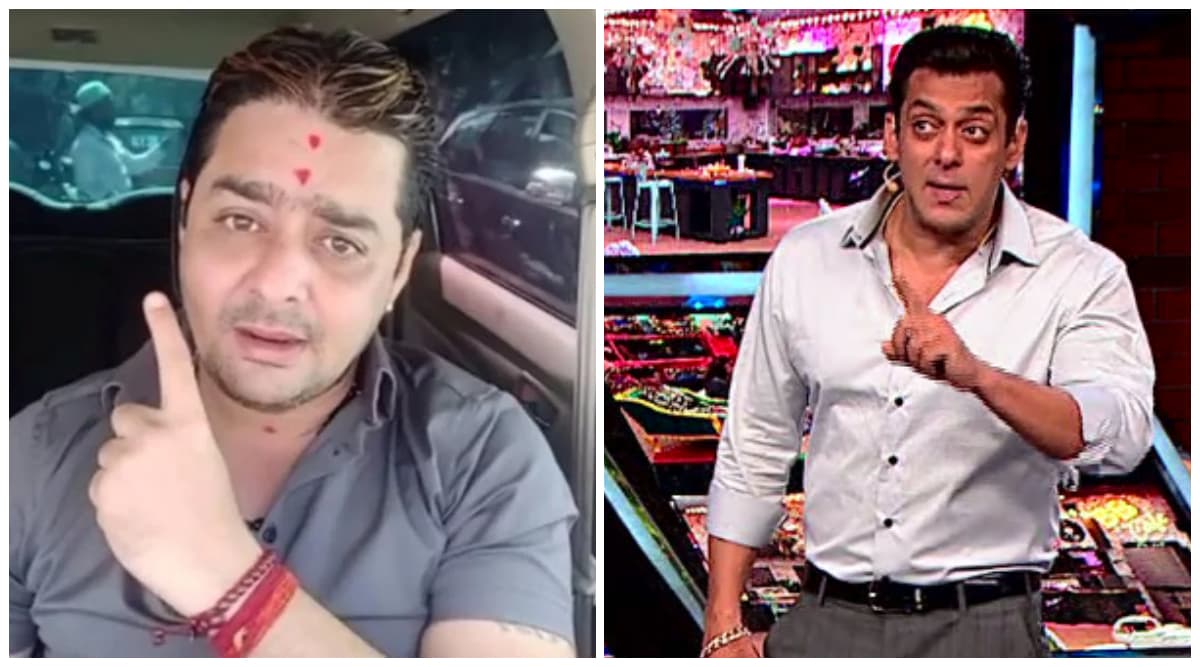 Vikas Jayaram Phatak aka Hindustani Bhau is entering Bigg Boss 13 after the First Finale of the season. He will be accompanied by 5 other new contestants. But he is probably the one contestant that the audience is most excited to see on TV. Hindustani Bhau is a viral sensation, with his YouTube and Instagram pages flooding with videos in which he is abusing left, right and centre (We mean he is abusing a lot). The man is a known nationalist and speaks up against everything he feels that goes against national interests. But in an EXCLUSIVE interview with LatestLY, he said that this is just one side of his personality and he will go through an image makeover while he is on the show. Bigg Boss 13: Hindustani Bhau Wants to Tell Paras Chhabra, 'Pehli Fursat Mein Nikal Le'.
When asked about his strategy for the show, Hindustani Bhau said, "The people who have become each other's enemies, I will make them friends." Exclusive Bigg Boss 13: Arhaan Khan Says, 'Going to Do Gandhigiri, but If Someone Crosses Limit, Won't Take Time to Become Subhash Chandra Bose'.
That seemed like a stark opposite persona of what we see of Hindustani Bhau on social media. When this was pointed out, he VERY politely said, "My anger and animosity is only with the people who talk against my country. This anger is justified. My anger, my abuses are my love for the nation. But these people are my own, I won't fight with them,"
"I will talk about love. I won't abuse anyone. Then people will understand that I am not like that," he added. EXCLUSIVE Bigg Boss 13 Wild Card Himanshi Khurana Makes a Shocking Revelation: 'Shehnaaz Gill Was Boycotted by A-Listers in the Industry'.
When asked if his reason to participate on Bigg Boss 13 is an image makeover, he said yes. "Confirm. That is what I want. I am not like that. I have a mother and sister at home. Main kisi ki maa-behen ko raste pe kyu laun? When there is an action, there is a reaction from me," he said.
The new contestant also said that Shehnaaz Gill is cute and not artificial at all. "If a girl goes to hurt someone, there is a limit to things. But that doesn't mean you should use foul language with her or insult her. Especially on a show like this, which has given you such a big platform. There are only two options from here, either you lose all the respect or earn a lot of it. At least on platforms like this, one should respect girls. It shows what is your upbringing," he added.
"Pehla to main andar jaa ke gaali-galauj ka silsila band karwane wala hoon," Hindustani Bhau said. Yes, he wants to bring an end to the usage of profanities in the house. "No one sides with the women in the house, I will bring an end to this. I will speak up for women."
Well, we are certainly looking forward to this image makeover for Hindustani Bhau that will take place inside the Bigg Boss 13-house. Should be fun to watch. Along with him, Shefali Jariwala, Tehseen Poonawalla, Khesari Lal Yadav, and Arhaan Khan are also entering the show as wild cards. Good times ahead on BB 13? Stay tuned to LatestLY for more updates.