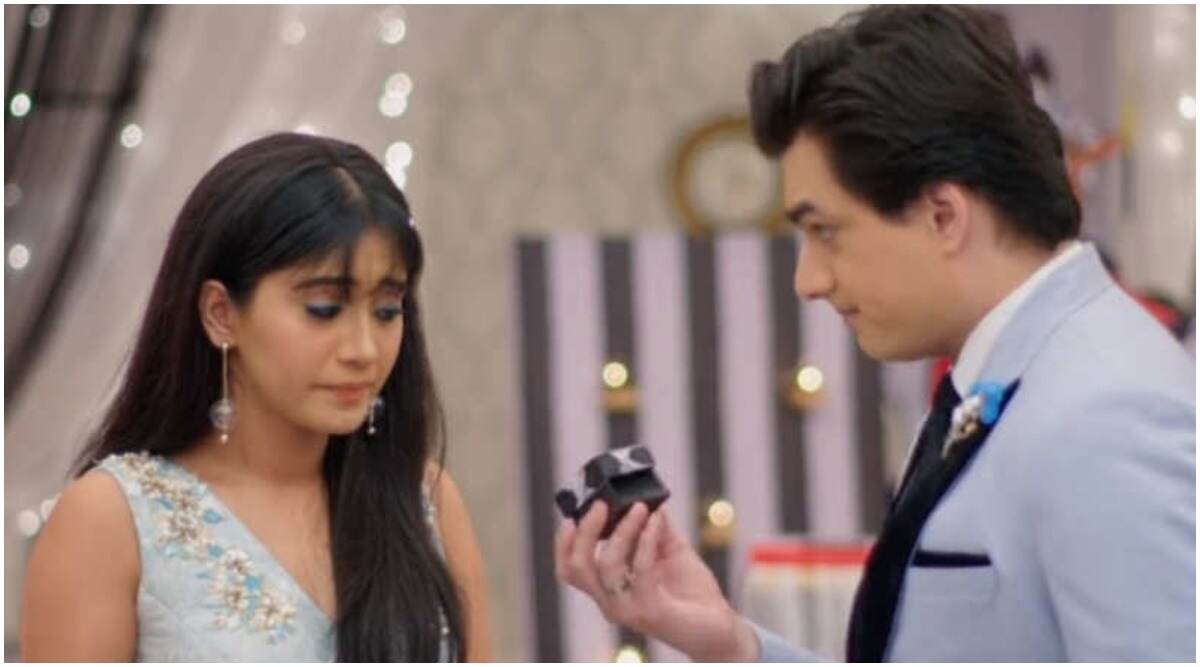 In yesterday's episode of Yeh Rishta Kya Kehlata Hai, the Goenkas are happy as Kairav is back unhurt. Naira tells Kartik to control his emotions as he is married to Vedika now. In tonight's episode, we see Vansh and Kairav playing their flute and making noise. All the family members come and ask what they want. The kids tell that Suhasini had told them to gather everyone. Suhasini calls the panditji and keeps the phone on speaker so that everyone hears it. The panditji tell them that they should do a puja for peace of their family and that Kartik (Mohsin Khan) should sit with his wife. Naira (Shivangi Joshi) gets tensed hearing this. Kartik thinks he should tell about his decision to the family after he speaks to Naira about this. Yeh Rishta Kya Kehlata Hai December 2, 2019 Written Update Full Episode: Kartik Happy With Naira's Confession, But She Is Uncomfortable And Embarrassed About It
In the Singhania house, Naksh feels happy to see Naira. But Naira cries and gets emotional and hugs him. Kairav tells Kartik that Naira has gone to meet Naksh. Kartik says he will go there and talk to her and clear the matter as he also cannot live without Naira now. Naira, on the other hand, tells Naksh that she still loves Kartik and is not able to control her feelings. Naira says if she and Kartik come together then Vedika will suffer which she does not want. Naira says that her life is so complicated as she is not able to decide what to do. Naira says she loves Kartik but Vedika is Kartik's wife now. Naksh tells Naira that whatever she decides she should think about Kairav once.
Vedika tells thanks to Kartik for understanding her situation. Kartik says one friend understands another friend and leaves. As Naira is trying to sleep, she is shocked to see Kartik along with the kids. Naira sees Vedika and Suwarna coming and wonders why are they here. Naksh is also surprised seeing everyone and asks for the reason. Kartik says they just wanted to surprise them. Suwarna invites Devyani and everyone else for the puja. Vansh and Kairav get irritated as all are talking and not playing with them. Kartik tells that they all will play the game and enjoy it. Kairav tells the game's name is clap and hand and tells everyone how to play. Kartik is happy as the game will give him an opportunity to tell Naira about his feelings. Yeh Rishta Kya Kehlata Hai November 27, 2019 Written Update Full Episode: Vedika Reveals Akshat's Identity to Goenkas, Kartik Reveals His Feelings to Naira  
Naksh blindfolds Kartik and everyone go and hide. All clap and make sounds so that Kartik can recognize and come to them. Kartik recognizes Naira's clap and comes near her. Naira tells Kartik that they should stop this as it will not be justice with Vedika. Kartik holds Naira close and tells that they should think about themselves also. Kartik says he does not want to lie about his feelings and live a whole life. Kartik tells he fought so much with her but he loves her only and he won't have the same feelings for anyone else. Naira gets emotional and cries but still, she says what is going on is not right. Naira tells him that only they should get punished for the mistake they did and not their family members.
Kartik tells Naira that they should stop faking and accept the truth and make everyone understand it. Kartik adds on saying that he will tell everyone the truth about their relationship as he does not want to hurt anyone anymore. Naira pleads to him that he should not do it. Vedika overhears them and gets disturbed. Naira feels that someone is watching them.
In the next episode, Naira tells Kartik that she thinks Vedika has heard them talking. Vedika comes and hands Kartik some legal papers.