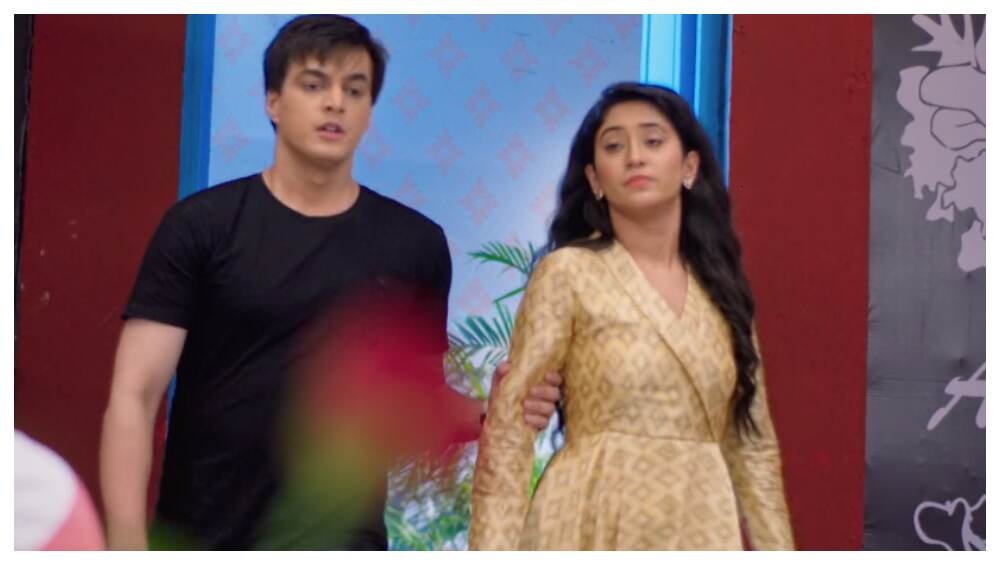 In the last episode of Yeh Rishta Kya Kehlata Hai, we saw Vedika confrontING Naira and engaging in a heated argument. Later, Kartik vents his anger while Kairav overhears Suwarna and Naira's conversation. Tonight's episode starts with Naira (Shivangi Joshi) telling Suwarna that Kairav's custody will be her's only and that Kartik (Mohsin Khan) will not get it. Kairav overhears them and wonders what does custody means and calls Vansh to enquire, but he says he also does not know the meaning and tells Kairav to ask someone else. Later, Naira gets the message from her lawyer that she should come on time to the court if they have to win the case. On the other hand, Damini is in Goa and sneaks into Naira's house and searches for some proof. Meanwhile, Lisa is on the way to Naira's place as she wants to stay in her house and on seeing that the lights are on she wonders who has sneaked inside. Inside, Damini searches all the cupboards and gets the paper that she wanted, just then Lisa comes and asks her who is she. Yeh Rishta Kya Kehlata Hai October 11, 2019 Written Update Full Episode: Kairav Overhears Kartik and Naira's Discussion Over His Custody Battle, Vedika Engages in a Heated Argument With Naira.
On the other hand, Naira's lawyer calls her and tells that she should have confidence in him and that they will win the case and she will only get the custody, Kairav overhears her talk. Naira prays that everything should be in her favour. Meanwhile, Damini tells  Lisa that she is the lawyer of Naira and came here to take the papers as she wants her to win the case. Damini says she wants to help Naira that is why she came here to Goa to collect it. Damini leaves.
Next day morning, Naira tells Kairav that she has some work so she will be late in coming back, Kairav says he will stay with Devyani and Kaveri. Naira tells Kairav that she is doing all this for him only and that she will never hurt him in her life. Kairav says Kartik also told him the same thing and asks why they both are telling the same things to him. Naira gets tensed and says that they are doing so because he is their baby and goes. Yeh Rishta Kya Kehlata Hai October 7, 2019 Written Update Full Episode: Kartik Comes to Naira's Rescue Much to Vedika's Disappointment, Later Naira and Kartik are Kidnapped
At the Goenka mansion, Kartik and Vedika are on the way to the court, Kartik asks her why was she crying the day before, she tries to avoid it and says nothing. Kartik asks her to tell the truth but Vedika says not today and that she will tell him the next day. They reach the court, Vedika tells Kartik all the best and that she will not be able to come inside. Kartik goes inside. Naira and Naksh also reach the court, Naksh tells her not to worry and be confident.
Later, Naira messages Lisa to pray for her as it is her hearing today. While they both chat Lisa comes to know that Kumar is Naira's lawyer and not Damini and gets tensed. Lisa calls Naira but she is not able to pick it as they are discussing her case with the lawyer. Lisa gets disturbed as what she will do now and prays to God to help Naira.
In the next episode, Kartik chides Damini when she puts a false allegation on Naira.