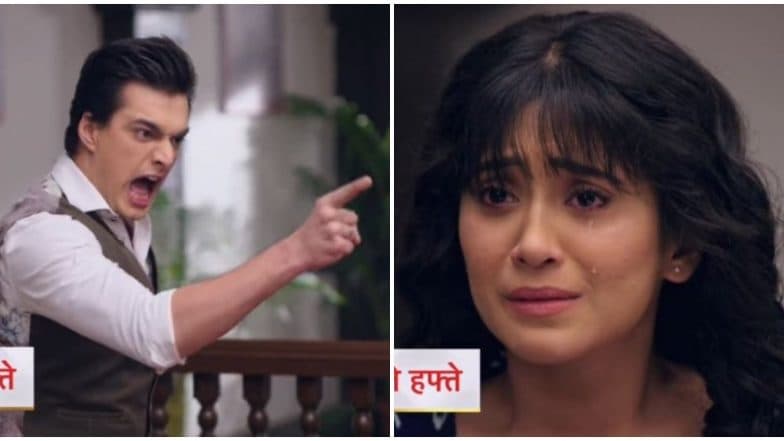 In yesterday's episode of Yeh Rishta Kya Kehlata Hai, we saw Kartik and Naira are shocked when they wake up together in the same room. Later, as Vedika learns a shocking truth, a hesitant Kartik and Naira sign the divorce papers. Tonight's episode starts with Kartik (Mohsin Khan) asking Naira (Shivangi Joshi) if she wants him to drop her as her driver will be late, but Naira says she will manage. Vedika is tensed thinking about the problems in her life, when Naira passes her and asks what is she doing here. Vedika tells she came to give some papers to Kartik. Later Vedika confronts Naira and asks her that when she had promised to go away from Kartik and her life,  then why did she not go and asks where were they last night? Vedika tells Naira that she does not trust her and thinks they both are lying. Yeh Rishta Kya Kehlata Hai October 10, 2019 Written Update Full Episode: Kartik and Naira Hesitantly Sign Papers for Kairav's Custody
They get into a heated argument. Naira tries to make her understand that she should trust them and that they really do not know what all happened with them. Vedika says she respected her a lot but now she is not able to trust her. Naira tells her not to talk anything when she knows nothing as they were drugged and they both are telling the truth, Vedika says she will not be able to trust anyone and runs from there. Naira gets disturbed.
Later, Kartik comes searching for Naira as the kids are waiting for her. Naira berates him asking him why did he stop them from going and did not let them go and says only problems will arise out of this. On the other hand, Kartik's lawyer Damini goes to Goa to get the original documents against Naira. Later, Kartik thinks why is Naira behaving like this, when he sees Vedika who is crying and comes to know that maybe because she is the reason. Meanwhile, Naira goes to eat Pani puri and shouts at the vendor to put more chilly paste in her pani puri. Yeh Rishta Kya Kehlata Hai October 7, 2019 Written Update Full Episode: Kartik Comes to Naira's Rescue Much to Vedika's Disappointment, Later Naira and Kartik are Kidnapped
Back at the Goenka household, Vedika comes and starts throwing things here and there she is very angry. Just then Pallavi calls her and asks her why is she sounding so angry, did someone say something to her? Vedika says Naira has spoiled her life and she will remove her from Kartik's life and narrates everything that happened and says she feels something bad is going to happen and throws her phone and starts crying.
Meanwhile, Kartik gets furious as he does not know what to do as he is hurting both Vedika and Naira and no one is looking at what he is going through. Suwarna tells him to control himself and be brave. Kartik says he still loves Naira but feels guilty when he sees Vedika crying and he cannot do anything. Later,  in the Singhania household, Naira's mouth is burning as she eats so many chillies, Naksh gives her juice so that she will feel better. Just then Suwarna comes and tells Naira that Kartik is ready to withdraw the case and tells her also to do the same. Suwarna tells Naira not to take Kairav away from Kartik and that he also is ready to withdraw the case. She asks Niara to think about how Kairav will feel when he will get to know about this. Kairav overhears their talk and gets disturbed. Suwarna asks Naira if she should tell Kartik to call Damini and withdraw the case. Naira reminisces what Vedika told her and says she is sorry as she wants Kairav's custody and Kartik cannot interfere between them. Naira says she will take Kairav's sole custody and end this case, and tells her to understand her feelings.
In the next episode, Damini puts false allegations against Naira in the court. Kartik gets furious and warns her not to play dirty,