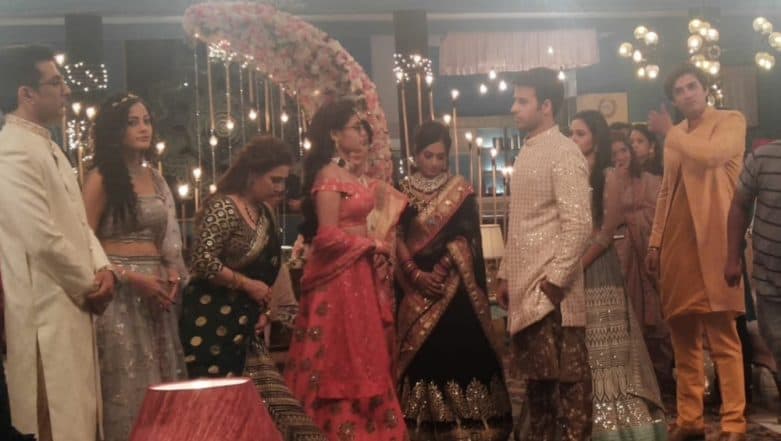 Star Plus' Yeh Rishtey Hain Pyaar Ke is all set to showcase a wedding. And what's a wedding without any drama? And there will be loads of it during Mishti (Rhea Sharma) and Kunal's (Ritvik Arora) gordhana ceremony, all thanks to Meenakshi (Rupal Patel). Meenakshi, who is dead against Mishti becoming Kunal's bride, plans to destroy the Singhania family's reputation during the ceremony. First Meenakshi places Kunal and Shweta's engagement picture in the necklace box that is to be given to Mishti. Yeh Rishtey Hain Pyaar Ke May 24, 2019 Written Update Full Episode: Mishti Regrets Yelling at Abir, Kunal Is Happy on Seeing His Fiance Change
And as a back up, she even manages to track down Naman and calls him for Mishti and Kunal's gordhana, so that she can insult and break the alliance publicly.
On the other hand, Abir (Shaheer Sheikh) who has accepted that he is in love with Mishti, decides to leave the city. However, something changes his mind and he makes a return with a ring and the resolve to propose to his lady love. Yeh Rishtey Hain Pyaar Ke May 20, 2019 Written Update Full Episode: Abir Realizes His Love For Mishti And Decides To Confess, However Kunal Declares His Decision To Marry Her
Meanwhile, Meenakshi's plan of letting Mishti know that Kunal was previously engaged, works when Mishti spots the photograph in the jewellery box. And that makes Mishti re-think her alliance with Kunal.
At the Singhania mansion, Naman then makes an entry into the ceremony and starts behaving like he cares genuinely for his daughter. He brings Mishti a gift that contains his history with the family and he asks her to accept it. However, Kunal steps in and stops Naman's drama.
However, buzz doing the rounds is that Mishti, being unsure of her feelings for Kunal and the marriage will back out of it and will begin to realise that she is more inclined towards Abir. And Abir too will confess his feelings for Mishti. Well, what will Meenakshi do now?