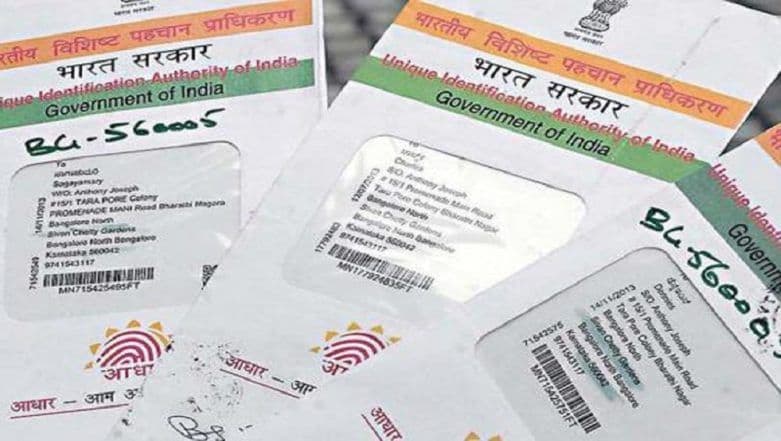 New Delhi, February 6: The Unique Identification Authority of India (UIDAI) on Wednesday said that it is not technically and legally feasible to use the 12-digit Aadhaar biometrics to identify dead bodies. During a hearing today, the UIDAI told the Delhi High Court that it was not possible for it to use the biometric details for forensic purposes that include the identification of dead persons. According to a report by Hindustan Times, a bench of Chief Justice Rajendra Menon and Justice V Kameswar Rao was told that in the 2018 Aadhaar judgment, the Supreme Court had stated that biometrics can be used only for specific purposes that have been mentioned in the Act. Aadhaar Declared Constitutionally Valid by Supreme Court, But It's Not Mandatory to Link it With Bank Accounts, Mobile Numbers.
According to the report, advocate Amit Sahni had filed a plea seeking directions on use of Aadhaar biometrics in the identification of the dead bodies.  While hearing Sahni's plea today, the UIDAI contended that the law was enacted to provide good governance as well as a transparent and targeted delivery of subsidies, benefits, services and social schemes to people across the nation. However, Sahni countered the claims and said if Aadhaar is being used to trace and identify missing children, it can also be used to identify unidentified bodies. The Court has now asked the UIDAI to respond to the Saini's claims and has posted the matter for further hearing on April 23. Aadhaar-PAN Linking Deadline is March 31, 2019. 
According to the HT report, the affidavit asserted that the sharing of the Aadhaar information or use of the 12- digit biometric details for any purpose other than generation of Aadhaar number and authentication under the Aadhaar Act is impermissible.
In January, the Allahabad Court had ruled that Aadhaar biometric details should not be considered as the conclusive proof during an investigation into a criminal case. According to reports, the Lucknow bench of the court added that an Aadhaar was a document that provided a conclusive link between the cardholder's photograph, his/her fingerprints and iris scan with a unique identification number.