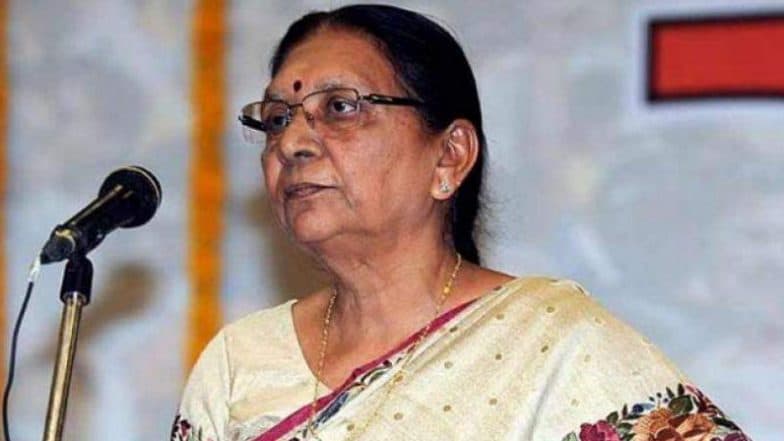 Agra, October 10: Uttar Pradesh Governor Anandiben Patel on Thursday told students of Dr BR Ambedkar University in Agra that they should desire for gold medals in studies rather than their marriages, India Roday reported. The governor is on a three-day visit to Agra, where she will take part in the University convocation, besides visiting Taj Mahal, Agra Fort and Fatehpur Sikri. Anandiben Patel Sworn-in as Uttar Pradesh Governor.
Addressing to female students, Anandiben Patel said that "Girls getting gold medals in the university often forget all their studies after marriage. This should not happen." She also said that the women should be "aware of the of the nutritional needs of their families," the report said.
Meanwhile, earlier today, the governor visited the Red Fort, Dayal Bagh, Sikandra Memorial and Fatehpur Sikri. She was accompanied by Agra District Collector and Senior Superintendent of Police. The images of the visit were posted to Twitter by the Uttar Pradesh Police.
UP Police Tweet:
महामहिम राज्यपाल उत्तर प्रदेश @anandibenpatel महोदया के जनपद आगरा भ्रमण कार्यक्रम में श्रीमान जिलाधिकारी आगरा एवं वरिष्ठ पुलिस अधीक्षक आगरा के नेतृत्व में लाल किला, दयाल बाग, सिकंदरा स्मारक एवं फतेहपुर सीकरी भ्रमण का कार्यक्रम सकुशल संपन्न हुआ। pic.twitter.com/MbT5wZPuxG

— AGRA POLICE (@agrapolice) October 10, 2019
On July 20, Anandiben Patel, who is former Chief Minister of Gujarat, was appointed as the governor of Uttar Pradesh, replacing the outgoing Governor Ram Naik.