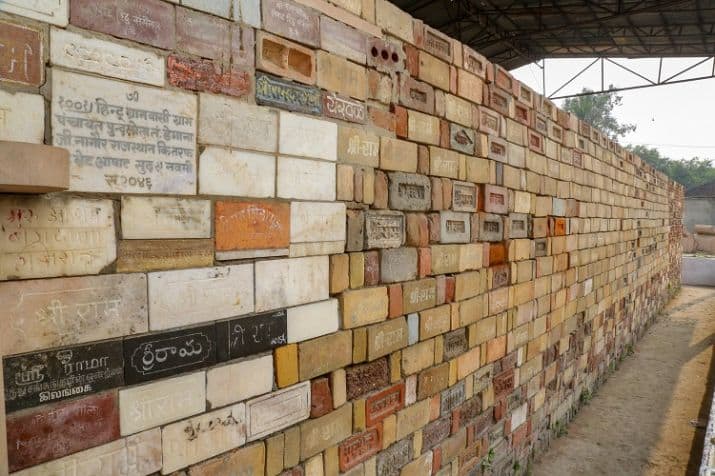 Lucknow, November 7: With the Supreme Court verdict in the 134-year-old Ayodhya title suit case barely a few days away, the Vishwa Hindu Parishad (VHP) has for the first-time stopped stone-carving. At Ayodhya's Nirman Karyashala, where the Parishad workers have been sculpting stones and marble pieces for the last 30 years, all work has been brought to a standstill in wake of the government advisory. Ahead of Supreme Court Judgement, A Timeline of The 134-Year-Old Babri Masjid-Ram Janmabhoomi Legal Dispute.
The VHP officials have confirmed that the carving of stones have been stopped at Nirman Karyashala. It would be resumed after the organisation's top brass takes a call, said VHP spokesperson Sharad Sharma while speaking to reporters.
So far, the group has carved nearly 1.25 lakh cubic feet of stones so far which is intended to be used for temple construction. The Nirman Karyashala was launched by the VHP in 1990, two years before its cadres participated in the 1992 movement which led to the razing of the Babri mosque.
A VHP functionary said the carving of stones continued even during the most turbulent periods. Under the Akhilesh Yadav-led Uttar Pradesh government, stones for carving were regularly imported from Gujarat and Rajasthan.
While the carving of stones has been stalled by the VHP at Ayodhya's Nirman Karyashala, the desk of VHP in Kesavapuram continues to receive subscription for building the temple.
Notably, the Supreme Court judgement in the Babri Masjid-Ram Janmabhoomi title suit is expected within the next 10 days. The verdict will be pronounced by the apex court before November 17, when Chief Justice of India (CJI) Ranjan Gogoi is scheduled to demit Office.