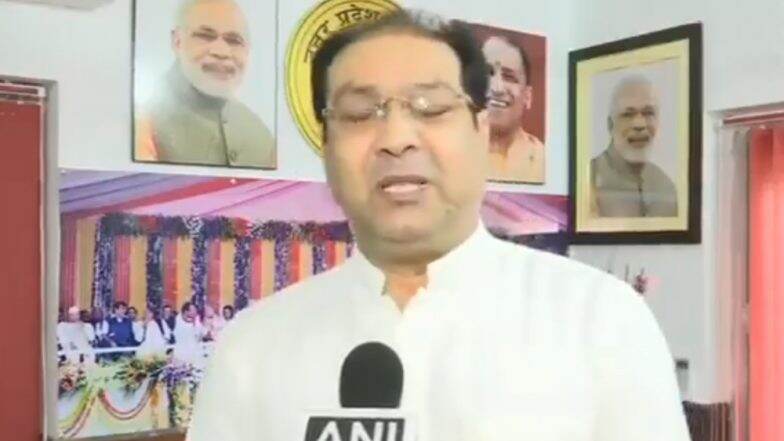 Lucknow, September 7: People across the country expressed their pride and lauded the Indian Space Research Organisation's (ISRO) stride towards the Moon, despite the Vikram lander's setback on Saturday. Apart from ISRO Chief K Sivan, there were many who were in tears after the lander lost connection during its descent on the Moon's surface. In a similar case, Uttar Pradesh Minister and BJP leader Mohsin Raza got emotional while talking about Chandrayaan 2. He said when the Vikram lost connection, there were many in the country who were heartbroken. Chandrayaan 2 Moon Landing: ISRO Loses Communication With Vikram Lander Just 2.1 km Away From Moon's Surface, Chairman Dr K Sivan Says Data Being Analysed; India 'Proud of Scientists'.
On Saturday, Sivan was seen in tears after communication with India's moon lander Vikram was lost as it was descending towards the Moon. Modi who was being accompanied by the scientist on his way out, immediately hugged and consoled him. In a last stage snag, communications between lander Vikram and the orbiter got snapped as the former was only 2.1 km away from its designated landing spot on the moon's South Pole early on Saturday.
Here's the Video:
#WATCH Uttar Pradesh Minister and BJP leader Mohsin Raza gets emotional while talking about #Chandrayaan2 pic.twitter.com/8jalouehKi

— ANI (@ANI) September 7, 2019
The Chandrayaan-2 spacecraft comprised of three segments - the Orbiter (weighing 2,379 kg, eight payloads), 'Vikram' (1,471 kg, four payloads) and 'Pragyan' (27 kg, two payloads). On July 22 this year, the Rs 978 crore spacecraft was launched into the space by India's heavy lift rocket Geosynchronous Satellite Launch Vehicle-Mark III (GSLV Mk III) in a text book style.