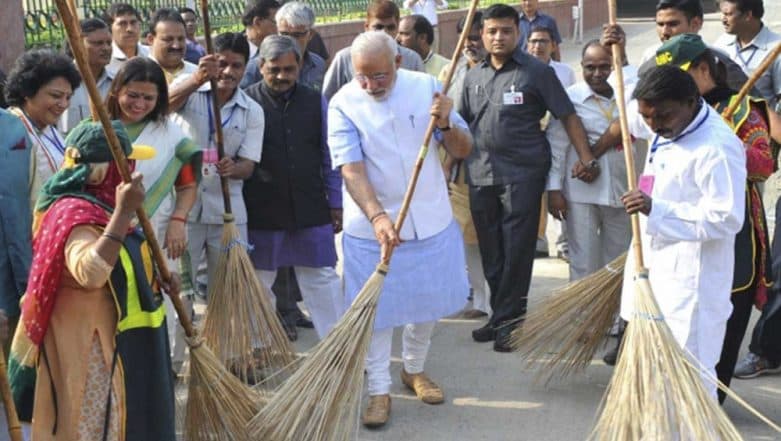 New Delhi, Sept 15: Prime Minister Narendra Modi on Saturday launched 'Swachhta Hi Seva', a campaign to raise the level of hygiene, cleanliness and sanitation in India by October 2, 2019 -- the 150th birth anniversary of Mahatma Gandhi. As the campaign generates a fresh buzz on the pressing issue of cleanliness, a section of netizens are wondering how it is different from the Swachh Bharat Abhiyan, launched by the PM four years ago.
A Mass Campaign Vis-a-Vis a Policy Measure to Boost Sanitation, Cleanliness
- Swachhta Hi Seva, first phase of which was launched in September 2017, is a "campaign" to galvanise popular mood in favour of turning India into a cleaner nation. Swachh Bharat Abhiyan, though touted as a campaign, is more of a policy measure, which involves significant expenditure by the government to achieve dignified levels of sanitation in all parts of India.
- The financial allocations under the Swachh Bharat Abhiyan increased from Rs 2,850 crores in 2014-15 to Rs 6,525 crores in 2015-16, to Rs 10,500 crores in 2016-17, to Rs. 14,000 crores in 2017-18. On the contrary, no such budgetary allocation has been assigned for Swachhta Hi Seva. The latter, however, eyes contribution from the corporate sector, "in favour of the Swachh Bharat Abhiyan."
- Two broad parameters set for measuring  Swachh Bharat Abhiyan's success were construction of toilets and declaration of open defecation free (ODF) villages). In the past four years, the government has aided in the construction of over 8 crore household toilets, while 2,38,966 villages were accorded ODF tag till 2017. For Swachhta Hi Seva, there is no parameter to measure success as its goal is to evoke popular mood in favour of cleanliness.
Moreover, the Swachhta Hi Seva is one of the special initiatives falling under the Swachh Bharat Abhiyan, and should not be considered as a parallel project to achieve the same goals. Similar initiatives launched under the Swachh Bharat Abhiyan banner in the past 4 years include: Swachhta Action Plan, Swachh Swasth Sarvatra campaign, School Sanitation drives, Anganwadi Sanitation drives and Railway Sanitation, among others.