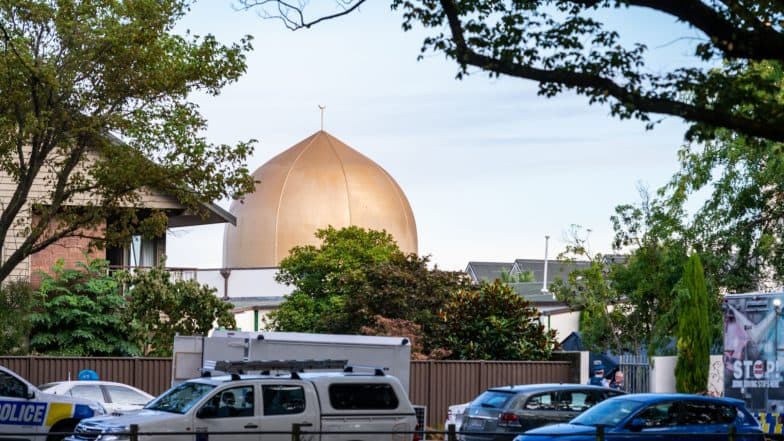 Christchurch, March 17: Five Indians were killed in the terror attack on two mosques in New Zealand's Christchurch, the Indian High Commission confirmed on Sunday. Two others who are confirmed dead were of Indian origin. The police also said the death toll has risen to 50 as one more victim was found at one of the shooting scenes and the prime suspect, identified as Brenton Harrison Tarrant, was believed to be the lone gunman in the massacre.
According to the Indian High Commission, Indians who lost their lives in the terror attack have been identified as Maheboob Khokhar, Ramiz Vora, Asif Vora, Ansi Alibava and Ozair Kadir. "With a very heavy heart we share the news of loss of precious lives of our 5 nationals in ghastly terror attack in #Christchurch (sic)," the tweet from the Indian High Commission read. The High Commission also set up a dedicated webpage to expedite visa for family members of Christchurch victims. Who Is Brenton Tarrant, The Australian 'Right-Wing Terrorist' Who Live Streamed Christchurch Mosque Shooting?
Indian High Commission's tweet:
With a very heavy heart we share the news of loss of precious lives of our 5 nationals in ghastly terror attack in #Christchurch

Mr. Maheboob Khokhar

Mr. Ramiz Vora

Mr. Asif Vora

Ms Ansi Alibava

Mr. Ozair Kadir@kohli_sanjiv @MEAIndia @SushmaSwaraj 1/3

— India in New Zealand (@IndiainNZ) March 16, 2019
According to the Indian Social and Cultural Hub of Christchurch (ISCC), Ozair Kadir, a 25-year-old from Hyderabad, was a student of the Aviation College and an aspiring commercial pilot. Ansi Karippakulam Alibava, 25, from Kodungalloor, Kerala, was a Masters student from Lincoln University. Farhaj Ashan aged 30, leaves behind his wife Insha Aziz, his three-year-old daughter and seven-month-old son. He had left home on Friday morning for prayer. New Zealand Mosque Shooting Was Live Streamed on Facebook by Shooter, Graphic Video Goes Viral.
Ramiz Vora and his father Aarif Vora from Vadodara in Gujarat also succumbed to their injuries. Maheboob Khokhar, 63, hailed from Ahmedabad. The Indian High Commission has shared two helpline numbers for assistance and expressed their condolences over the deaths of 50 people killed in the twin attacks."Our helpline numbers (021803899 & 021850033) will remain available round the clock to assist families as we together cope with our shared grief. We deeply mourn loss of all other innocent lives including people of Indian origin," it said in a tweet.
Brenton Tarrant opened indiscriminate fire at two mosques -- Al Noor Mosque and Linwood Avenue Mosque -- in Christchurch during prayers in what New Zealand Prime Minister Jacinda Ardern said was a terror attack. He is an Australian citizen who was described as an "extremist right-wing violent terrorist" by Australian Prime Minister Scott Morrison.