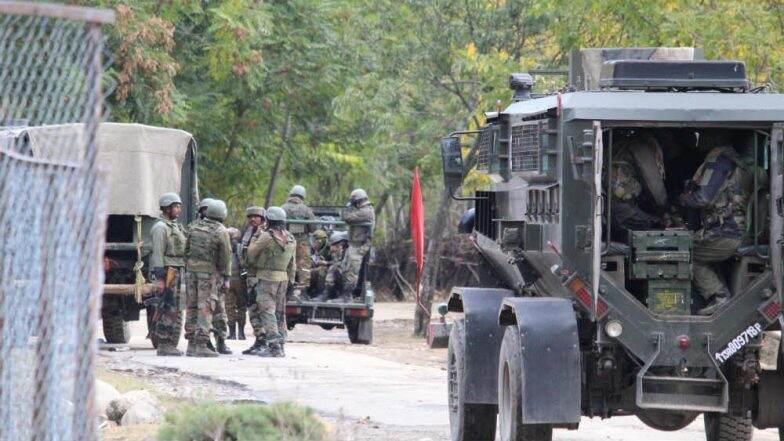 New Delhi, September 11: In a bid to infiltrate terrorists into Jammu and Kashmir, Pakistan has reactivated at least seven terror launch pads along Line of Control (LoC), said a report on Wednesday. There are intelligence inputs suggesting the presence of terrorists at launch pads set up by the Pakistani army and Inter-Services Intelligence or ISI, the report added. The maximum number of terrorists have been assembled to infiltrate through the Gurez sector in north Kashmir. Pakistan Army Directed Lashkar-e-Taiba, ISIS Terrorists to Target Indian Assets in Afghanistan.
According to the report which quoted top intelligence sources, around 80 terrorists are camping near Gurez, 60 in Machhal, 50 in Karnah, 40 in Keran, 20 in Uri, 15 in Naugam and 10 in Rampur across the LoC. Anticipating retaliation by Indian forces after the Pulwama terror attack in February, Pakistan had shut down several terror launch pads, shifting terrorists to safe locations. However, movements anti-India elements have resumed after India withdrew the special status of Jammu and Kashmir under Article 370. Jamaat-ud-Dawah's 'Child' Soldiers: Hafiz Saeed Preparing Army of Minors to Continue Jihad Against India.
Among terrorists active at launch pads across the LoC are Afghan and Pashtun mercenaries, the report stated. Pakistan has often used Afghan and Pashtun terrorists in its cross-border terrorism, however, it is quite unusual, top intelligence sources told TOI. Pakistan first began pushing foreign mercenaries of different ethnicities into Kashmir in 1990. Islamabad also tried to infiltrate terrorists from mostly ethnic communities of Punjab and Pakistan-occupied Kashmir (PoK).
Indian Army Arrests Two Pakistani Terrorists, Plays Confession Video To Expose Lashkar-e-Taiba
Since India revoked Jammu and Kashmir's special status under Article 370 and bifurcated the state into two union territories last month, Pakistan has been threatening violence and trying to internationalise the issue. Intelligence agencies have credible inputs that Pakistan is planning to escalate tensions by pushing in more terrorists into Kashmir.
"Pakistan's objective is to internationalise the Kashmir issue. They want to prevent the restoration of normalcy in Kashmir by terrorising common people [to prevent them] from opening shops, schools, businesses and resuming normal life. For that, they need more than the prevailing 250 terrorists in Kashmir at the moment. The ISI realises that as of today, with not a single bullet fired since August 5, New Delhi has the situation in its control. So they will make their best efforts to create mayhem," sources were quoted as saying.