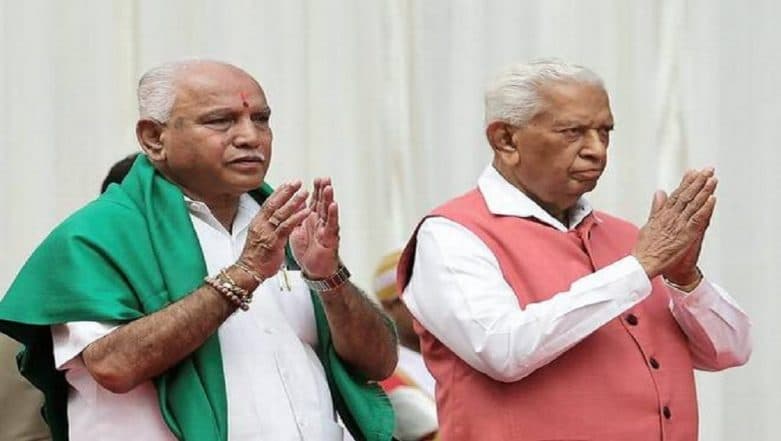 Mumbai, May 17: Governor Vajubhai Vala allowed BJP to form their government in Karnataka, stating that BJP has emerged as the single largest party and hence have the right to stake a claim as per the provision of the law. However, the decision is now slammed vehemently. The opposition also alleged that the decision has come under the influence and pressure of central government (Modi government).
Highlighting the past instances, the opposition claimed that the decisions of governors have been mala fide. Alleging further, they remarked that wherever such situations have arisen at times of a hung assembly, decisions have been made to suit the agenda of BJP. Therefore, now they have decided to come together and challenge the discretionary power of governor by staking claims in all those states where the single largest party was not allowed to form their government like in Manipur, Goa, and Bihar. Also, they are planning to hold a statewide protest if the supreme court ruling, scheduled on Friday, comes in favour of BJP.
RJD former Deputy Chief Minister Tejashwi Yadav of Bihar, taking the reference of Karnataka, has now demanded that his party should be allowed to form the government as people's mandate proved his party as the single largest in the 2017 assembly elections.
I will meet Honourable Governor of Bihar along with MLAs as we are single largest party of Bihar.

— Tejashwi Yadav (@yadavtejashwi) May 17, 2018
We are not only single largest party but single largest block of pre poll alliance in Bihar.

Then why should we not be called to form government in Bihar?

Tomorrow at 1 PM will meet Bihar Governor.

— Tejashwi Yadav (@yadavtejashwi) May 17, 2018
Meanwhile, the Congress-JD(S) leaders are vigorously raising objections against the Karnataka governor's decision. The state party spokesperson Randeep Surajwala in a press conference held on Thursday remarked that Vajubhai Vala had sacrificed his seat for Narendra Modi earlier, and yesterday he sacrificed constitution and democracy for him (Modi). In his remark, he further stated that Vala conducted the first encounter of the constitution when he invited BJP to form a government and today when BS Yeddyurappa sworn-in as CM, he led the second encounter.
Vajubhai Vala had sacrificed his seat for Narendra Modi earlier,y'day he sacrificed Constitution&democracy for him. He conducted 1st encounter of Constitution y'day when he invited BJP to form govt. Today when he swore-in BS Yeddyurappa,he conducted its 2nd encounter: R Surjewala pic.twitter.com/7DVyzU8vxW

— ANI (@ANI) May 17, 2018
Taking the jibe further, the Congress senior leader and former Finance Minister P Chidambaram also slammed the governor. In one of his tweets, Chidambaram said that the governor had given BJP 15 days' time to 'manufacture' a majority, taunting BJP's move of offering a bribe to MLAs, to seek their to support in the house
Governor invites Mr Yeddyurappa to manufacture a majority in 15 days.
Governor gives Mr Yeddyurappa 15 days to convert the number 104 into 111.
— P. Chidambaram (@PChidambaram_IN) May 16, 2018
Well, the extraordinary powers which the governor of the state enjoys during emergency situation seem to be in the line of danger now. Oppositions turning violent and targetting the governors over the decisions have become a pertinent question, which is looking for the balanced answer -- will the discretionary powers continue to remain intact, after so many doubts mounting in?