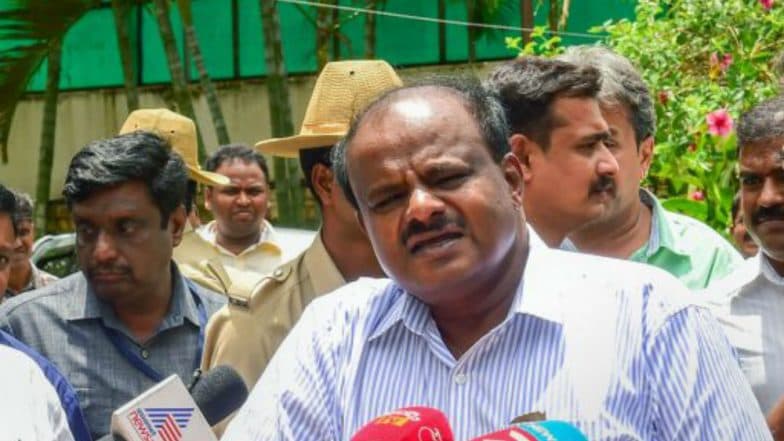 Bengaluru, February 10: Nearly a week after the Karnataka Chief Minister HD Kumaraswamy released the audio clip, claiming BJP state president BS Yeddyurappa tried to bribe Janata Dal (Secular) MLA Naganagowda Kandkur in a bid to destabilise the JD(S)-Congress coalition government, another MLA of his party – Srinivasa Gowda – on Sunday alleged that BJP leaders offered him Rs 30 crore to resign from the JD(S).
Addressing a press conference in Bengaluru on Sunday, Gowda said, as quoted by ANI, that out of the Rs 30 crore BJP leaders paid Rs 5 crore as the advance, which, he said, he accepted. Kumaraswamy Releases Audio Clip, Claims B S Yeddyurappa Tried to Bribe JD(S) MLA; Karnataka BJP Chief Dismisses Charge.
Taking the names of three BJP leaders, Gowda said, "BJP's CN Ashwathnarayan, SR Vishwanath and CP Yogeshwara came to my home, offered Rs 30 crore and gave Rs 5 crore in advance. They wanted me to resign from JD(S). I told them I am loyal to the party and will never do it. I spoke to HD Kumaraswamy and told them to take back that money (Rs 5 crore)."
Earlier on Saturday, the Congress alleged that Karnataka BJP chief BS Yeddyurappa had offered a total of around Rs 200 crore to 18 Congress MLAs. This was allegedly done in an attempt to destabilise the ruling JD(S)-Congress coalition government in the state. Adding more, KC Venugopal and Randeep Singh Surjewala alleged that Yeddyurappa offered Rs 10 crore per MLA and Rs 50 crore to the Speaker.
In the meanwhile, the Karnataka CM removed dissenting Congress MLA Dr Umesh Jadhav from Warehouse Corporation chairmanship and replaced him with Pratap Gowda Patil on Friday. However, Yeddyurappa has quashed all the allegations against him. It is to be noted that in the 224-member Karnataka Legislative Assembly, the BJP has 104 seats, while the JD(S) has 37 seats and Congress 80 seats.