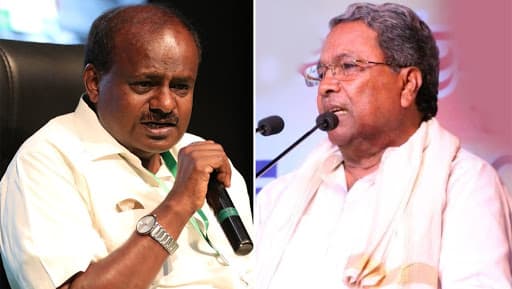 Bengaluru, January 26: Contradicting the claims of former chief minister Siddaramaiah of the absence of 'operation lotus' in the state, current Karnataka CM HD Kumaraswamy on Saturday stated that 'Operation Kamala' is still on and BJP offered JD(S) MLA a huge amount of money on Friday night.
Alleging the Opposition leaders BS Yeddyurappa – though on a statewide tour of the drought-affected areas, is trying to 'poach' JD(S) MLAs – the CM alleged that BJP is toppling his government. Kumaraswamy said, "Operation Kamala is still on. Last night they (the BJP) offered one of our MLAs huge amount of money. You'll be surprised to know the amount. Our MLA told them he doesn't need any gift and not to try these things with him. This is how they are still working on poaching." Karnataka MLA 'Poaching' Row: BS Yeddyurappa Says CM Kumaraswamy Indulging in Horse-Trading.
However, Yeddyurappa called the allegations as baseless and denied that there was no 'Operation Lotus' going on in the state. The opposition leader even suggested the CM to concentrate on ruling the state. Due to the horse-trading, the government fell and threw a hung assembly in the state elections last year.
Yeddyurappa had said, as quoted by ANI, "We aren't indulging in any Operation Kamala. Their MLAs are trying to go away from them due to their internal fight. It's their duty to keep them intact. They should stop giving baseless statements against us. We are 104, and two Independent MLAs are also in the Opposition."
Sharing similar opinion, even former chief minister and Congress leader opined that there is no 'Operation Kamala' in the state, neither there is any fear over the future of the coalition government. He said, "There is no Operation Lotus at all. It is only a creation. Where is the Operation Lotus?" Adding more, he said, "We have discussed the political situation in Karnataka. The situation is not as depicted in the media. There is no concern over the future of the coalition government."
In the assembly elections, that took place in May 2018, BJP won 104 seats while the Congress secured 80 seats and JD(S) had won 37 seats. The Congress gave unconditional support to the JD(S), and a coalition government was formed.