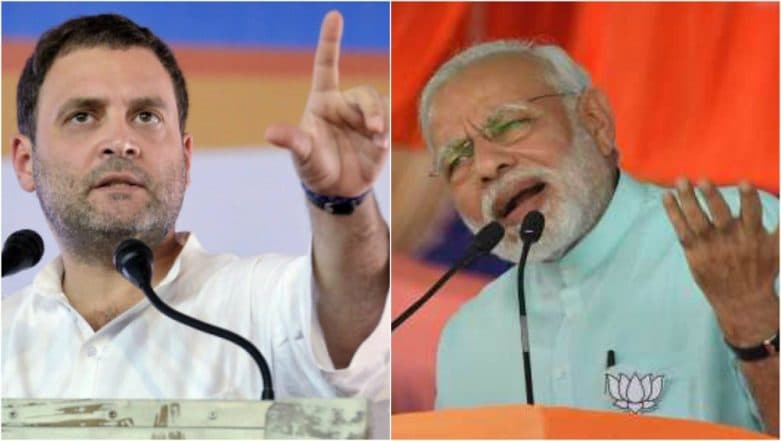 New Delhi, February 22: Prime Minister Narendra Modi led Bharatiya Janata Party (BJP) would struggle to get a simple majority and the Congress, headed by Rahul Gandhi, has a fair chance to form a coalition government after the upcoming Lok Sabha elections, according to a report of Fitch Solutions Macro Research, an affiliate of Fitch Ratings, one of the three leading rating agencies. The report added that both the BJP and the Congress won't get a simple majority.
"We at Fitch Solutions are bucking the overwhelming consensus at this juncture that the BJP will most likely form the next government after the upcoming elections," Fitch said in a report on Thursday. The Congress party has a fair chance of marshalling a coalition government, it added. The agency said regional parties will play a key role in the next government formation at a time when the ruling BJP has disagreements with many large 'potential kingmaker parties'. Lok Sabha Elections 2019: Opposition Leaders Meet Election Commission, Demand Counting of 50% of VVPAT Slips.
Fitch Solutions said the recently announced populist schemes, including income support programme for farmers, will have a "minimal effect" on swinging voters to its side. It added that the February 14 attack on a CRPF convoy in Jammu and Kashmir's Pulwama allows to the ruling party to "drum up nationalistic sentiment and to rally the electorate behind the BJP." Lok Sabha Elections 2019 Schedule Hoax: What is Truth Behind the Viral List of Parliamentary Poll Dates?
The Election Commission of India is likely to announce the Lok Sabha Elections 2019 schedule in the second week of March, i.e., between March 7 and 10.