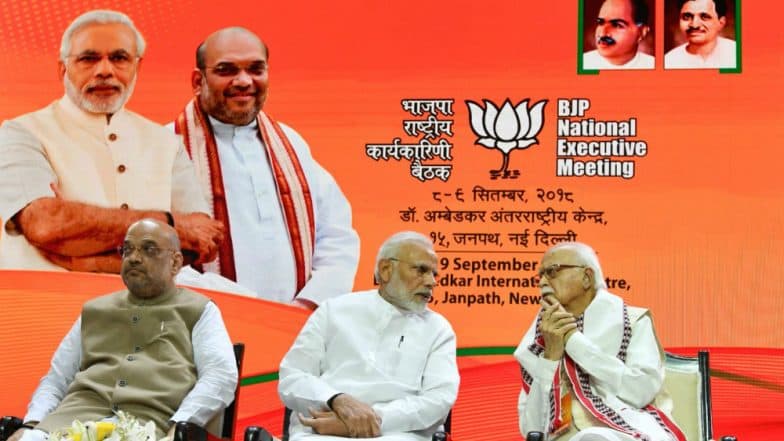 New Delhi, March 16: With less than a month to go for the 2019 Lok Sabha elections, the Bharatiya Janata Party (BJP) is likely to release its first list of candidates today. According to reports, the BJP may declare candidates for 100 seats in its first list, which include 20 seats in Uttar Pradesh. Prime Minister Narendra Modi will re-contest from Varanasi Lok Sabha seat, reports said.
After the 2014 Lok Sabha elections, the BJP had an undeclared rule of not offering a ministerial position or ticket to those aged above 75. However, at BJP parliamentary board meeting held on March 8, the party decided to do away with the 'Above 75' rule. Any candidate who is capable of winning, even if he or she is above 75 years of age, will be given a ticket, the BJP leadership reportedly decided. Akhilesh Yadav, Mayawati to Hold 11 Joint Rallies from April 7, Check Venue and Place.
LK Advani (91), Murli Manohar Joshi (85), Bhagat Singh Koshyari (76), BC Khanduri (84), Kalraj Mishra (77) and Shanta Kumar (84) are prominent among the over one dozen Lok Sabha members of the BJP who have crossed 75. Speaker Sumitra Mahajan will turn 76 in April. According to reports, Rajnath Singh, Murli Manohar Joshi and Kalraj Mishra want to contest election again. Rajnath Singh would also re-contest from Lucknow parliamentary seat.
Earlier today, PM Modi kick-started BJP's campaign for Lok Sabha elections by urging his supporters to take the 'Main Bhai Chowkidar' (I too am watchman) pledge, saying he is not alone in the fight against graft and social evils. "Your Chowkidar is standing firm & serving the nation. But, I am not alone. Everyone who is fighting corruption, dirt, social evils is a Chowkidar. Everyone working hard for the progress of India is a Chowkidar. Today, every Indian is saying-#MainBhiChowkidar," he wrote on Twitter.
Modi has often described himself as a 'Chowkidar' who would neither allow corruption nor get corrupted himself. Congress president Rahul Gandhi has been repeatedly hurling the 'Chowkidar Chor Hai' (watchman is the thief) jibe at Modi to claim irregularities and favouritism in the Rafale fighter jet deal, a charge the BJP-led government has rejected. The 'Main Bhi Chowkidar' campaign is apparently a counter-attack by the BJP against Gandhi's 'Chowkidar Chor Hai' jibe.
The seven-phased Lok Sabha elections are scheduled from April 11 to May 19. The counting of votes will take place on May 23.