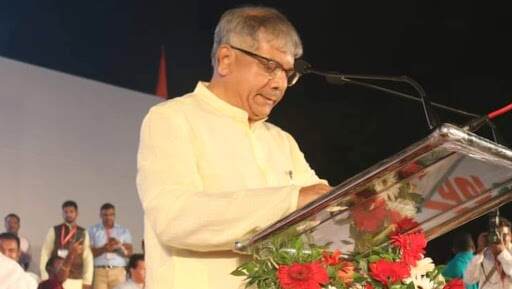 Mumbai, March 15: Dalit leader Prakash Ambedkar's party Vanchit Bahujan Aghadi's (VBA) on Friday released their first list of 37 candidates for the upcoming Lok Sabha elections. The list of candidates has been released by the party after the alliance between the VBA and Congress failed in Maharashtra.
With speculations rising that Ambedkar would contest either from Solapur or Akola constituency, the released list has no mention in it. In fact, the seats are left vacant, and is expected that the party would contest its safest candidates from the seat as it considered as a bastion of the party – claiming to represent Dalit community in Maharashtra. Lok Sabha Elections 2019: Prakash Ambedkar Jolts Congress, Set to Contest From Solapur. 
Earlier, in the list – released by the Congress – former chief minister of Maharashtra Sushil Kumar Shinde has been given the ticket for Solapur. It is the same seat where Ambedkar and Congress had been discussing on for weeks. Though it was won by BJP's Sharad Bansode in 2014, Congress is planning to make a comeback from the seat.
Prakash Ambedkar 's Vanchit Bahujan Aghadi releases first list of candidates for Loksabha election 2019. Interestingly the names have their caste mentioned. The question arises of acceptance by #ElectionCommissionOfIndia and modal code of conduct.#LokSabhaElections2019 pic.twitter.com/ASfShODvB3

— Ali shaikh (@alishaikh3310) March 15, 2019
Here's the full list of candidates:
Phase 1 Lok Sabha Elections (Date: April 11, 2019)
Sl no 
PC 
Candidate Name
1
Wardha
Dhanraj Vanjari
2
Ramtek
Kiran Rodge
3
Nagpur
4
Bhandara  Gondiya
NK Nahne
5
Gadchiroli Chimur
Dr Rakesh Gajbe
6
Chandrapur
Rajendra Mahadole
7
Yavatmal-Washim
Prof. Pravin Pawar
Phase 2 Lok Sabha Elections (Date: April 18, 2019)
Sl no 
PC 
Candidate Name
8
Buldhana
Baliram Siraskar
9
Akola
10
Amravati
Gunwat Deopare
11
Hingoli
Mohan Rathore
12
Nanded
Prof. Yashpal Bhige
13
Parbhani
Alamgir Khan Akhil Mohd Khan
14
Beed
Prof. Vidhnu Jadhav
15
Osmanabad
Arjun Salgar
16
Latur
Ram Garkar
17
Solapur
Phase 3 Lok Sabha Elections (Date: April 23, 2019)
Sl no 
PC 
Candidate Name
18
Jalgaon
Anjali Ratnakar Baviskar
19
Raver
Nitin Kandelkar
20
Jalna
Dr Saradchandra Wankhede
21
Aurangabad
22
Raigad
Suman Koli
23
Pune
Anil Jadhav
24
Baramati
Navnath Padalkar
25
Ahmednagar
26
Madha
Vijay More
27
Sangli
Jaisingh Shedge
28
Satara
Sahdeo Awle
29
Ratnagiri-Sindhudurg
Maruti Ramchandra Joshi
30
Kolhapur
Dr Aruna Mali
31
Hatkanangle
Aslam Badshahji Sayyad
Phase 4 Lok Sabha Elections (Date: April 29, 2019)
Sl no 
PC 
Candidate Name
32
Nandurbar
Dajmal Gajmal More
33
Dhule
34
Dindori
Bapu Kelu Badde
35
Nashik
Pawan Pawar
46
Palghar
Suresh Arjun Padwi
47
Bhiwandi
Dr. AD Sawant
48
Kalyan
49
Thane
Mallikarjun Pujari
40
Mumbai North
41
Mumbai North-West
Sambhaji Shivaji Kashid
42
Mumbai North-East
43
Mumbai North-Central
44
Mumbai South–Central
Dr Sanjay Bhonsale
45
Mumbai South
Dr Anil Kumar
46
Maval
Rajaram Patil
47
Shirur
48
Shirdi
Dr Arun Sable
Considering the strength of the party and Dalit uprising in the state, VBA has fielded Anil Jadhav from Pune, Dajmal Gajmal More from Nandurbar, Suman Koli from Raigad, Maruti Ramchandra Joshi from Ratnagiri-Sindhudurg, Arjun Salgar from Osmanabad and Dr Saradchandra Wankhede from Baramati.
The Lok Sabha Elections in Maharashtra will take place in first four phases – April 11, 18, 23 and 29. The results would be announced on May 23.