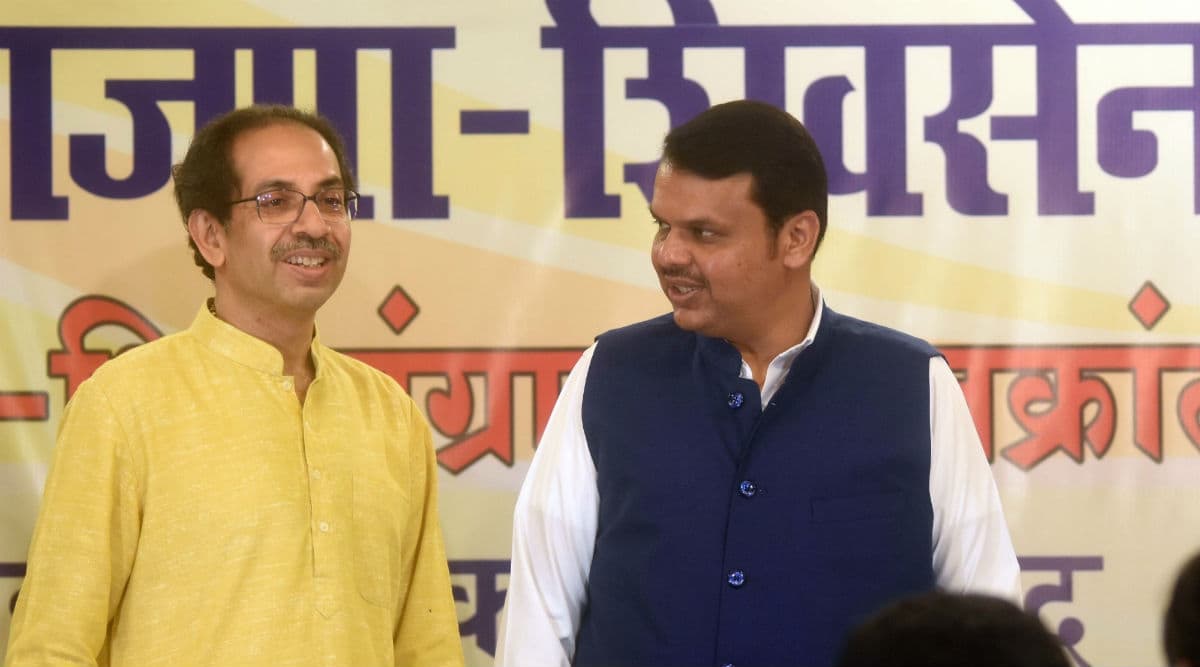 Mumbai, October 29: Maharashtra Chief Minister Devendra Fadnavis on Tuesday said that nothing was promised to Shiv Sena on power-sharing, virtually rejecting Uddhav Thackeray-led party's demand for the chief ministerial post on a rotational basis. Devendra Fadnavis said that the Bharatiya Janata Party (BJP) did not have any agreement with the Sena for equally sharing power in the state government. BJP, Shiv Sena in Race to Increase Bargaining Power by Winning Over Independents, Small Parties.
"There was no formula to split the chief minister's post... we have given no such formula...Our party president (Amit Shah) has confirmed that nothing has been decided on CM post to Shiv Sena," Fadnavis said. The Chief Minister, however, ruled out the possibility of a break up between the BJP and the Shiv Sena and said that "a stable and efficient government of Mahayuti (alliance) will run for 5 years". Shiv Sena Should Accept Deputy CM Post For Aaditya Thackeray And Leave CM Chair For Devendra Fadnavis, Says Ramdas Athawale.
Fadnavis also mentioned editorials of Saamana, mouthpiece of Shiv Sena, and said that until the newspaper stops writing articles against the BJP, talks will not go further on power-sharing. Saamana has been publishing articles criticising BJP and its policies. On Monday, the editorial made a resounding critique on the economic slump which it said "is evident in the subdued Diwali celebrations this year".
In the state assembly elections, the BJP won 105 seats, down from 122 that it had bagged in 2014, falling way short of the majority mark of 145. Shiv Sena's tally also went down from 63 to 56. As BJP's tally has gone down compared to its 2014 performance, the Shiv Sena is playing hardball to form government in the state. Shiv Sena leaders are saying that the BJP had promised to rotate chief ministerial post while sealing the alliance for the Lok Sabha polls.
Earlier today, Shiv Sena MP Sanjay Raut said that there is no 'Dushyant' in Maharashtra and Shiv Sena practices politics of "dharma and Satya", in an apparent jibe at Haryana Deputy Chief Minister and JJP leader Dushyant Chautala. "If someone wants to keep us away from power, then it is an honour for us. A decision will be taken soon. We are currently observing that to what lows people can resort to. As decided before the Lok Sabha elections, our only demand is that things should work according to what has been decided earlier," Raut said.