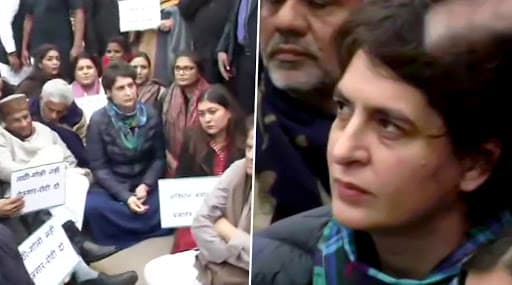 New Delhi, December 16: Amid the protests by Jamia Millia Islamia and Aligarh Mulsim University students over the controversial Citizenship Amendment Act becoming the point of debate, Congress General Secretary Priyanka Gandhi on Monday sits on a symbolic protest near India Gate to her solidarity with the students. Accompanying her, senior Congress leaders like KC Venugopal, AK Antony, PL Punia, Ahmed Patel, and other Congress leaders too on a symbolic protest.
Not only for the students of JMI, but he sat at India Gate to express her support for the protesting students various University students -- like Maulana Azad National Urdu University (MANUU), Jawaharlal Nehru University, Hyderabad Central University, among others. All the students from these campuses have raiosed their voices against the violence on JMI students by the police during their CAA protests. Priyanka Gandhi Condemns Brutal Police Crackdown in Jamia Millia, AMU, Says 'Govt Attacking Constitution'.
Here's the ANI tweet:
Delhi: Priyanka Gandhi Vadra & other Congress leaders sit on a symbolic protest near India Gate over police action during students' protests in Jamia Milia Islamia (Delhi) & Aligarh Muslim University. pic.twitter.com/eoFjaMzWLF

— ANI (@ANI) December 16, 2019
Earlier, Gandhi fired fresh salvo against the Narendra Modi government over the brutal police crackdown against students in Jamia Millia Islamia and Aligarh Muslim University (AMU). She accused the Centre of violating the spirit of Constitution by sending security personnel inside the educational campuses to brutalise the students. She had said, "Government has attacked the constitution and students, they attacked students after entering the university. We will fight for the constitution, we will fight against this government."
Meanwhile, Delhi Metro Rail Corporation has again closed the entry and exit gates of Patel Chowk, Central Secretariat and Udyog Bhawan stations, after Jamia on Monday. It had informed that trains will not halt in these stations. On Sunday, DMRC had closed the gates of more than 16 Metro stations.
On Monday, Chief Justice of India SA Bobde agreed to hear the matter on Tuesday. However, CJI Bobde made it clear 'If violence and destruction of public property continues, we will not hear it.' He said, "Just because they happen to be students, it doesn't mean they can take law and order in their hands, this has to be decided when things cool down. This is not the frame of mind when we can decide anything. Let the rioting stop." Jamia Millia Islamia Protest Against Citizenship Amendment Act Draws National Attention: What We Know So Far.
The violence in Delhi erupted on Sunday afternoon, when a section of protesters in the march led by Jamia Millia Islamia students resorted to violence. The miscreants burnt down four buses and vandalised over a dozen vehicles. Fire brigade personnel who were rushed to the site were also allegedly pelted with stones by the infuriated mob.