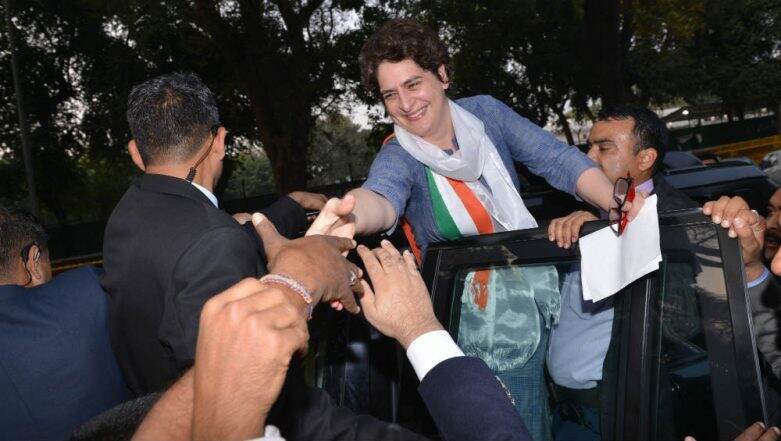 Lucknow, March 17: Congress General Secretary and eastern Uttar Pradesh in-charge Priyanka Gandhi Vadra on Sunday wrote a letter addressing people of the state. In her letter, Priyanka Gandhi said she will be meeting people to understand problems they are facing and vowed to bring a change in politics in Uttar Pradesh. Priyanka Gandhi hinted she will run a door to door campaign ahead of the Lok Sabha elections.
"Youngsters, women, farmers and labourers are in distress because of the stagnation in politics of the state. They want to speak out but their voices have been lost...I know any political change cannot be brought in the state without listening to you all. Hence, I am coming to your door," Priyanka Gandhi wrote. She said along with the support of people she will work towards solving problems their problems and bring a change in the politics. Priyanka Gandhi Will Make No Difference to BJP's Poll Prospects in Uttar Pradesh, Says Yogi Adityanath.
"I want to assure you that we will bring in a change on the foundation of trust between us," she said in the letter. She arrived in Lucknow today to hold a meeting with party workers. She will kick off a three-day poll campaign from her great grandfather Jawaharlal Nehru's birthplace Prayagraj to Prime Minister Narendra Modi's parliamentary constituency Varanasi by a steamer on March 18.
Priyanka's journey will commence from Prayagraj on Monday and conclude at Varanasi's Assi Ghat and Dashashwamedh ghat on Wednesday evening. She will take the steamer ride from Chhatnag in Prayagraj on March 18 and en route meet elderly citizens of Dumduma in Prayagraj and the family members of Mahesh Raj Yadav, who was killed in Jammu and Kashmir's Pulwama on February 14 in a suicide bombing.
Priyanka Gandhi, who is considered as the second most important face in Congress after her brother and party President Rahul Gandhi, will be back to her steamer ride from Rampur ghat in Bhadohi. From there, she will also visit Vindhyachal temple in Mirzapur and meet the carpet weavers before a night halt there. She will commence her journey on Tuesday from Vindhyachal and visit the Dargah of Maulana Ismail Chisti in Bhadohi's Kantit area and interact with people there.
The Congress leader will then again be back to steamer ride from Mirzapur. She will interact with advocates at Kachahri Ghat in the district and then visit Bhatauli village and meet people there. Thereafter, the newly-appointed General Secretary will reach Chandrika Devi temple and interact with people after offering her prayers there. After leaving Chandrika Devi temple, Priyanka will reach Devri in Mirzapur and interact with local villagers there before arriving at Chunar for the night halt.
In the last leg of her three-day journey on Wednesday, she will visit via road Varanasi's Sheetla Mandir and meet women groups there. From Sheetla temple, Priyanka will again take the steamer ride till Ramnagar and interact with the fishermen community there. She will also visit the house of former Prime Minister Lal Bahadur Shastri in Varanasi's Ramnagar before arriving at Assi Ghat by the steamer. There she will interact with the local people, people from Jain communities and offer prayers at Vishwanath temple.
After performing rituals at the Vishwanath temple in Varanasi, she will again take the steamer ride to Dashashwamedh Ghat. After that, she will leave for the Congress office in Varanasi and interact with party workers during a Holi Milan programme. She will then leave for Delhi on Wednesday evening from Varanasi airport.