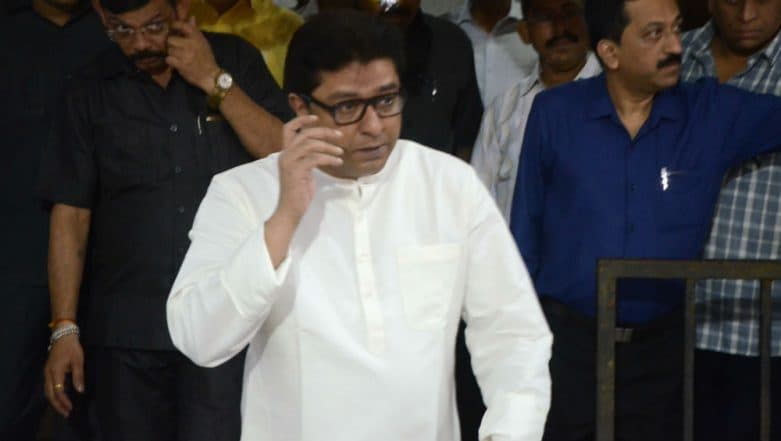 Mumbai, August 21: The Mumbai Police served a notice to leaders of the MNS on Wednesday, a day before  Raj Thackeray's appearance before the Enforcement Directorate (ED) in connection with IL&FS case. Issuing a notice, the Mumbai Police warned MNS leaders and members of action if they are found disturbing law and order in the country's financial capital.
The Mumbai Police issued the notice to MNS members under Section 149 of the CrPC and warned them of strict action if they disrupt public peace or law and order in the city. Even though Thackeray has asked his party workers to maintain calm, the police are not taking any chances. Security has also been enhanced outside the ED office in South Mumbai. Police personnel were seen outside the Ballard estate office of the ED and vigil has been increased in the area. Raj Thackeray Gets Support From Shiv Sena Chief Uddhav Thackeray.
A day after the news emerged that Thackeray is summoned by the ED, MNS leader Bala Nandgaonkar had announced a show of strength outside the ED office. "People are angry with the action and hence would be gathering outside the ED office on Thursday at 10:00 am. Apart from MNS cadres even leaders and workers of other political parties would be present at Ballard Pier (where the ED office is located)," Nandgaonkar had said on Tuesday.
However, hours later, Thackeray said that he will honour the summons by ED and appealed to his supporters to remain calm. In a direct, signed statement addressed to all MNS workers, he said that since the party's inception in March 2006, innumerable cases have been registered against him and the activists. "Each time, we all have honoured the notices sent by the investigating agencies and the court of law. This time, too, we all must honour the summons sent by the ED," the MNS chief said. Raj Thackeray Summoned by ED: MNS Activist Commits Suicide in Thane.
Stressing how the past years have made the party leaders and activists accustomed to cases and notices coming their way, he said: "Keeping this in mind, I earnestly request that peace and harmony is maintained on August 22. No harm or damage should come upon any public property and the common man should not suffer in any way. Kindly ensure that this is followed diligently. Do maintain utmost calm and peace, even if provoked."
The entire Maharashtra Opposition has strongly criticised the ED move terming it as a "vendetta" and "witch-hunt" after Thackeray's strong attacks on the ruling Bharatiya Janata Party (BJP) and Shiv Sena. Contrary to earlier speculation, the MNS will not organise any shutdown or agitations to oppose the ED move. (With IANS inputs)