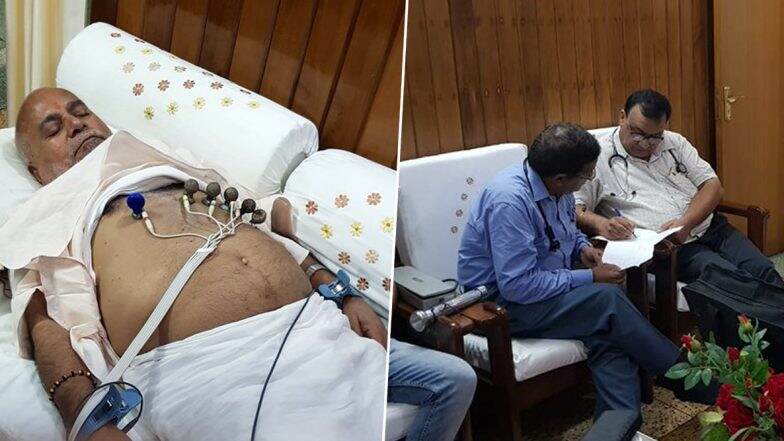 Lucknow, September 16: Former BJP lawmaker Swami Chinmayananda, who is accused of rape by a law student, was attended to by a team of doctors at his Shahjahanpur-based residence Divya Dham. Preliminary reports showed visuals emerging from his house where the medictioners were conducting several tests to ascertain the condition of the 72-year-old veteran politician. Swami Chinmayanand Case: What Would've Happened If He Had Been a Congressman, Kapil Sibal Asks Narendra Modi.
The complaint of ill-health by Chinmayanand comes amid an ongoing probe against him by the Special Investigation Team (SIT) into the sexual assault allegations levelled by the 23-year-old woman. The BJP leader, who has so far denied the allegations, has cried a conspiracy to defame him and the party.
The victim's father, while speaking to reporters on Sunday, said he has submitted 43 clips before the investigators to prove that his daughter was being subjected to sexual assault by the BJP's ex-MP.
Earlier, the victim had claimed that she has sent evidence to the SIT through her friend in a pen drive. The storage device, she claimed, contained videographic proof of Chinmayanand sexually assaulting her.
The woman, who was grilled for several hours earlier this month, also expressed disappointment over the SIT not arresting Chinmayanand yet.
"On Sunday (September 9), the SIT quizzed me for about 11 hours. I have told them about the rape. Even after telling them everything, they have not arrested Chinmayanand yet," she had said.
On Thursday, the SIT questioned Chinmayananda for couple of hours and confined him to house arrest. Police personnel have been deployed outside his residence to prevent the former union minister to move out.