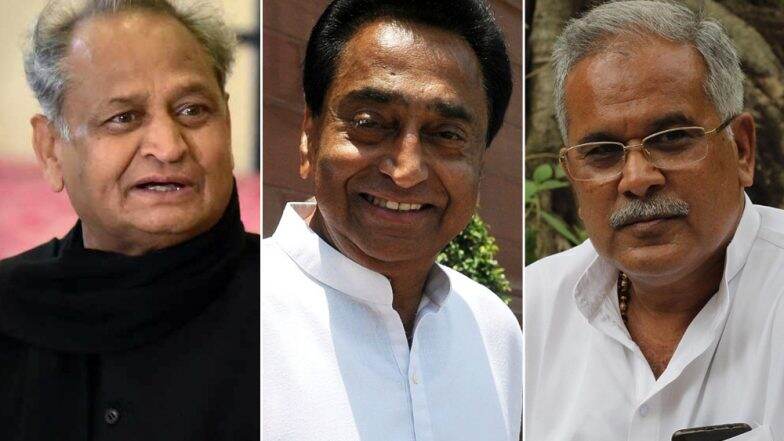 New Delhi, December 13: The suspense over Chief Ministers of Madhya Pradesh, Rajasthan and Chhattisgarh is likely to end on Thursday evening as the names will be announced between 4 and 5:30 pm today. Congress President Rahul Gandhi on Thursday held several rounds of meetings with Congress leaders, including Rajasthan CM frontrunners Sachin Pilot and Ashok Gehlot. The Congress chief also met his sister Priyanka Gandhi on a day when he has been given the responsibility of deciding on the CMs of the three states that the Congress won in Assembly Elections 2018.
Ashok Gehlot Likely to be Rajasthan CM: Reports
After Rahul Gandhi's back to back meetings with Pilot and Gehlot, several reports say that the decision has been taken on the next CM. Reports say that Gehlot, who has served as Rajasthan CM twice before, is most likely to be the Chief Minister of the state. Both Pilot and Gehlot headed back to Jaipur after meeting Gandhi in Delhi and it is being said that an official announcement is set to be made at 4:30 PM from the Congress office in Rajasthan.
Kamal Nath Set to Take Over as MP CM: Reports
In Madhya Pradesh, reports say that state Congress chief Kamal Nath is going to be given the Chief Minister's chair. Even as there is clamour against Nath for his connection with the 1984 anti-Sikh riots, and there is support for party's young leader Jyotiraditya Scindia, reports say that the Congress will go ahead with the veteran's name for the MP CM's post. A Congress legislative meeting is scheduled in Bhopal at 5 PM today, during which a formal announcement on Kamal Nath being chosen as the Chief Minister of Madhya Pradesh will be made.
Bhupesh Baghel to be Chhattisgarh CM?
In Chhattisgarh, state Congress unit chief Bhupesh Baghel is being said to be the frontrunner for the Chief Minister's post. While TS Singhdeo was also in the race to be CM, reports say that the party will go ahead and announce Baghel as the next Chief Minister of Chhattisgarh.