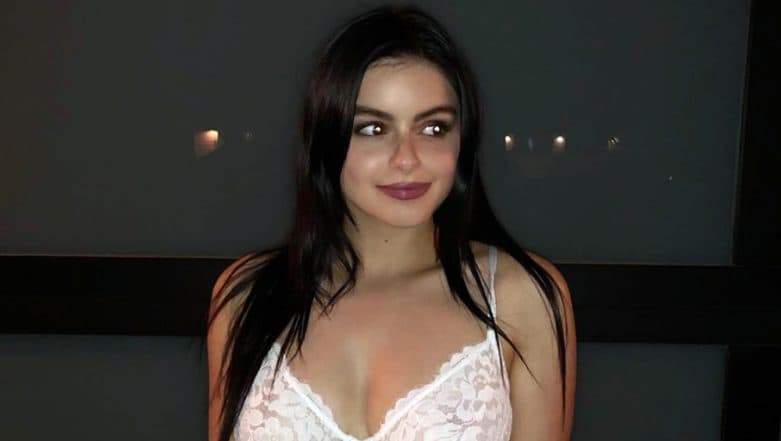 Ariel Winter is not the same, little Alex Dunphy we saw and loved in Modern Family. She's all grown up and has countless admirers now. She became a teen icon ever since she opened up about her struggle of being in the public eye. She's been a role model for young teens and adults as she documented every bit of her journey to loving herself. Although Ariel lacks in the style quotient, she did surprise fans with a stunning picture of her on Instagram recently. She looks beautiful as always but needs to get a new stylist who isn't as basic. Ariel Winter Sexiest Pics Yet: See 'Modern Family' Actress' Instagram Feed Full of Raunchy Butt and Cleavage Show Before She Quits It!
Ariel Winter posted a picture of her in a lace crop top, looking cuter than ever! The white crop top has beautiful lace design but looks like a corset. She paired it with what looks like black, leather pants. Although she looks beautiful, lace is overrated and overdone at this point. What was once considered sexy is now BORINGGG! Things might come back in style but it's not the time for lace yet. Ariel Winter Trolled For Being 'Too Thin' in New Instagram Pictures, Modern Family Actress Hits Back at Body-Shamers.
Ariel in White Lace Top and Black Leather Pants
View this post on Instagram
We wish we could say she looks different. Does she look pretty? Yes. But is she doing anything new with her look? Nope. she gives us the same smile and pose every time, for every Instagram picture. The only different thing we see in this picture is her hair. Ariel switches up her hair colour and style every time and it's time for dark, black this time. In the words of Eleanor Shellstrop, Ya Basic!