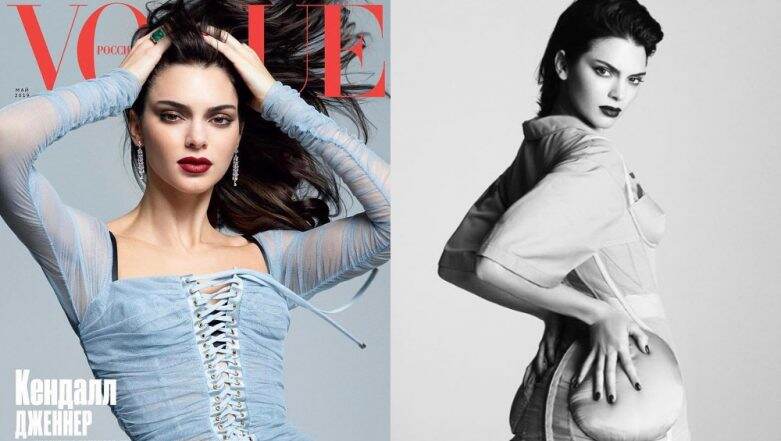 The Kardashian-Jenner sisters sure are sizzling up Vogue covers everywhere! Just recently, Kim Kardashian was featured on the cover of Vogue US. And now we have a glimpse at Kendall Jenner rocking the Vogue Russia cover. Needless to say, the model looks totally luscious in the magazine cover as she flaunts her gorgeous looks!
Wearing a lovely blue Dolce & Gabbana ensemble with dark red lips, Kendall looked too lovely. In another cover by Vogue Russia, Kendall is seen wearing a transparent Fendi jacket with a sleeveless top. Not to mention the dark red lips continue to make its presence felt even in the second cover. The inside pictures are also quite intriguing and have already received a 'yay' from sister Kylie Jenner. Clearly, Coachella with Hailey Baldwin wasn't enough to sizzle that now she has chosen the cover of Vogue Russia too!
Kendall Jenner on Vogue Russia
Here's an inside picture from Vogue Russia
The second Vogue Russia cover
Many think that since she belongs to the Kardashian-Jenner clan of busty and voluptuous women, standing out as the one with a less curvaceous body might be insecurity she faces. Speaking to The Telegraph, the model said, "My sisters are a lot curvier than me. They have boobs and I don't have boobs. Growing up being this little twiggy girl, I saw my sisters and always thought, 'Oh no am I supposed to be more sexy like them?' I like that I have a different vibe to everyone. I like to do different things. And that's OK."