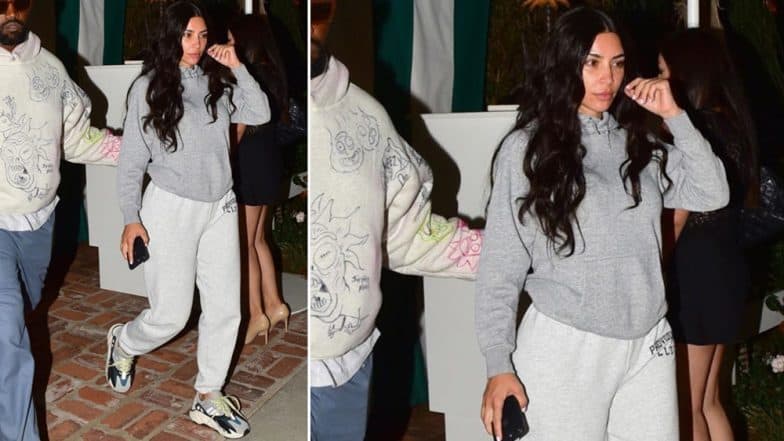 Kim Kardashian West never gives up her fashionista and diva appearance. Her makeup is always on point, and she makes sure she picks outfits that highlight her body. The reality star has to have all eyes on her the moment she walks into a room. But on her last date with Kanye, she looked a little… off? Kim Kardashian West went out with her husband in a grey hoodie and bare face. While we stan a no-makeup queen, we have to question if she's okay. Kim Kardashian Confirms That Kanye West Is Bipolar and Reveals Why He Won't Take Medication For The Same.
Kim Kardashian West and Kanye West were spotted on a dinner date in Santa Monica. The duo had an exhausted look on their faces and it could be their four kids to manage. At this point, we all have the habit of seeing Kim in tiny dresses that flaunt her curves in the best way possible. So naturally, fans were a little taken aback to see Kim in a loose, grey hoodie and sweatpants. This also goes for her makeup. While Kim is known to start makeup trends with a stunning look every other day, last night her face was unusually bare. She indeed looked tired with her entire attire. She sported sneakers that maybe hint to another Yeezy launch. Kim Kardashian Introduces Body Makeup by Covering Up Psoriasis on Leg, Gets Trolled for Promoting Unrealistic Body Standards.
Kim Kardashian West and Kanye West in Santa Monica, California Last Night
View this post on Instagram
Kim Kardashian West and Kanye West on a Dinner Date Two Weeks Ago
View this post on Instagram
Since the beginning of 2019, the rumours of Kim Kardashian West and Kanye West getting a divorce have been floating around. With the looks of it, can we say things are going rough between the couple? Kim and Kanye looked different about two weeks ago, but now things look a little gloomy. We genuinely hope things are fine between the two but still wonder what's going on. In the post from two weeks ago, Kim is dressed and her makeup is fire, but this Plain Jane look on Kim is new.