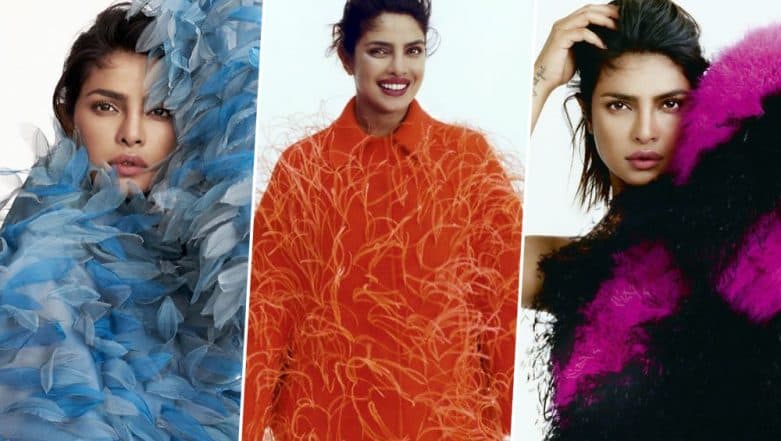 Priyanka Chopra is back to stun you with her uber hot pictures from a recent photoshoot. The actress is the cover girl for Elle UK's August issue that's all about relishing her journey from Miss World to Hollywood. An inspiration to so many, PeeCee has always been what they call a 'charmer' who believes in working hard than relying on her destiny. After wooing our hearts with her previous international covers, the lady returns with a new feather in her hat and the new one is slightly more appealing than the rest of them. Priyanka Chopra Meets Gal Gadot at Paris Fashion Week and They Look 'Wonder'Ful.
Priyanka is a sight for sore eyes in her ruffle dressed and feathered outfits, something that she personally likes to flaunt. We won't tag it as unusual but rather a beautiful attempt at making something so basic look incredibly classy. With dark lips and sultry expressions, PeeCee does a fine job in unleashing this fun and terrific side of hers. We are in awe of her costume department and the mastermind behind conceptualising this shoot for keeping it so usually unusual. Kareena Kapoor Khan, Disha Patani and Priyanka Chopra Find a Place in Our Best-Dressed List This Week - View Pics.
Check out pictures from Priyanka Chopra's new photoshoot
Some more...
Priyanka is the next big thing in Hollywood and she's literally going places. After being the front-row guests for Christian Dior's fashion show at the ongoing Paris Fashion Week, the lady will get back to her philanthropic commitments that are as crucial as other responsibilities. On days when Priyanka isn't occupied with her shoots or her duties towards UNICEF, she's busy shooting for such amazing pictures that are modish, snazzy and glamorous.