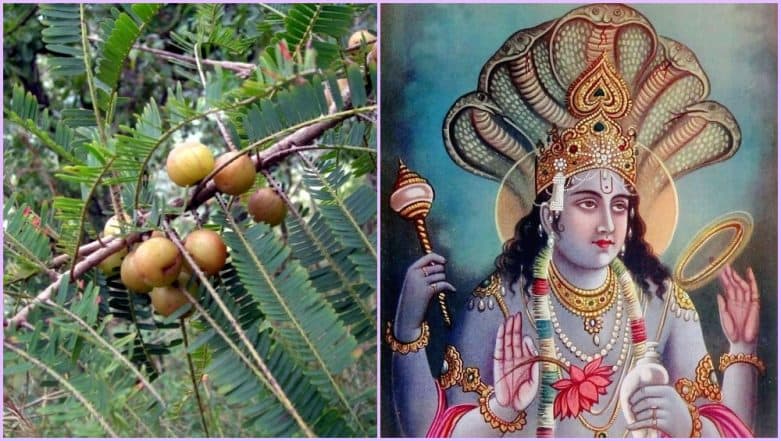 Amalaka Ekadashi or Amalaki Ekadashi is a Hindu festival which is celebrated on the 11th day, Ekadashi of the waxing moon, in the lunar month of Phalgun, (February to March). The Hindu community across India, worships amla tree (Phyllanthus emblica) and Lord Vishnu, as it is believed the sacred god resides in the tree. The amlaka tree is ritually worshipped on this day to get the grace of the Hindu deity. Amalaki Ekadashi officially marks the beginning of the joyous festival of Holi. There is a vast history and Vrat Katha of this auspicious festival as devotees fast and worship Amla tree and Lord Vishnu. Holika Dahan 2019 Date and Shubh Muhurat: Chhoti Holi Puja Vidhi and Auspicious Timings in India. 
Ekadashi vrat 2019 is deemed as the superior of vrat observances, and it is said that people can fulfil all their desires by observing the fast. Among all other Ekadashi vrat, Amalaki Ekadashi 2019 is said to be an exclusively special one on account of the blessings it carries and the countless benefits ensuing to the observers. This year, Amalaki Ekadashi will be observed on March 17, 2019.
Why Devotees Fast, Worship Lord Vishnu & Amla Tree?
The worshipping of the tree is an integral part of Hinduism. It believes that the universal spirit or omnipresent deity resides in everything. During Amalaki Ekadashi 2019, devotees' worship Amla tree due to the belief that the Hindu god Vishnu lives in and near the tree on this occasion. Again, in some traditions, it is believed that his wife Goddess Lakshmi is said to dwell in the tree. Another reason for the worship is its medicinal qualities used in Ayurvedic preparations, primarily because of its rich content of Vitamin C in fresh fruit. Know The Schedule of Holi Festival Celebrations in Religious Towns of Mathura and Vrindavan in UP. 
Amalaki Ekadashi 2019 Vrat Katha
The legend related to Amalaki Ekadashi 2019, vrat underlines the importance of observing this fast. According to legend, once upon a time, there was a king named Chitrasena, who was a great devotee of Lord Vishnu. He observed the Amalaki Ekadashi vrat devotedly and earned the Lord's blessings. During one of his hunting adventures, King Chitrasena lost his way in the forest and was captured by the wild tribes who attacked him with weapons. Though he remained physically unharmed, the king fell unconscious with demons surrounding him. Divine power in the form of light emerged from his body and destroyed his attackers. After regaining consciousness, Chitrasena was shocked to see all the attackers killed. He heard a divine voice who announced that this was due to the observance of the Ekadashi vrat. After this incident, observing fast during Amalaki Ekadashi became popular in many kingdoms across the nation.
On the day of Amalaki Ekadashi 2019, devotees take a sacred bath and visit nearby temples of Lord Vishnu. They offer a pot filled with holy water including great canopy, sandalwood, roli, flowers, diyas and aromatic incense to Amla tree. Devotees observe a fast on this day and also perform all-night vigil and worship Lord Vishnu. Though, Holi begins on Vasant Panchami; it is on Amalaka Ekadashi 2019 that the main festivities begin.